Koon Yew Yin 10 July 2020
From my experience as a listed company director, I know our company used to employ hundreds of people. In the finance department alone, we had about 50 staff to produce the quarterly and annual accounts. When so many people were involved in the preparation of the accounts, it was impossible to keep any secret, especially quarterly and annual accounts.
[ Visit
The Coffee Break
-The top newsletter to know more and learn more. Be smarter in 3 minutes ]
Supermax share price started to shot up 9 trading days ago. It shot up from Rm 7.72 to close Rm 12.44, an increase of Rm 4.72 or 61% in 9 trading days as you can see from the price chart below.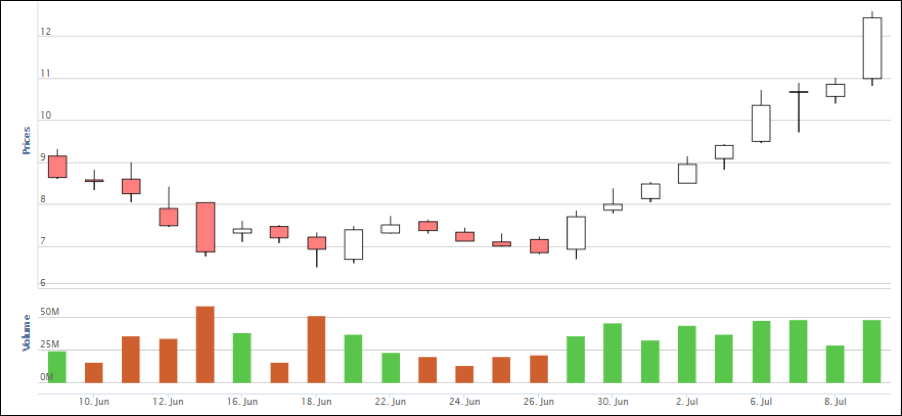 The price shot up Rm 1.58 yesterday which indicated that the result of last quarter ending June is already known to a few rich investors.
Before 9 am yesterday, I WhatsApp to about 50 friends on my contact list to tell them not to be afraid to use margin finance to buy more Supermax shares.
To make more money, investors must be more observant and have a lot of common sense. Investors must have entrepreneur spirit and willing to take calculated risk.
Most investors will not buy Supermax today because it has shot up too fast and they want to wait for the price correction or price weakness to buy. Based on the aggressive buying in the last 9 trading days, it looks like the price will continue to go up higher. Conservative investors will have to wait a long time to be able to buy. By which time, the price will have gone up a few more Ringgit.
In any case, I advise investors not to sell their shares as the Covid 19 pandemic will not be under control for at least another year as many scientists predicted.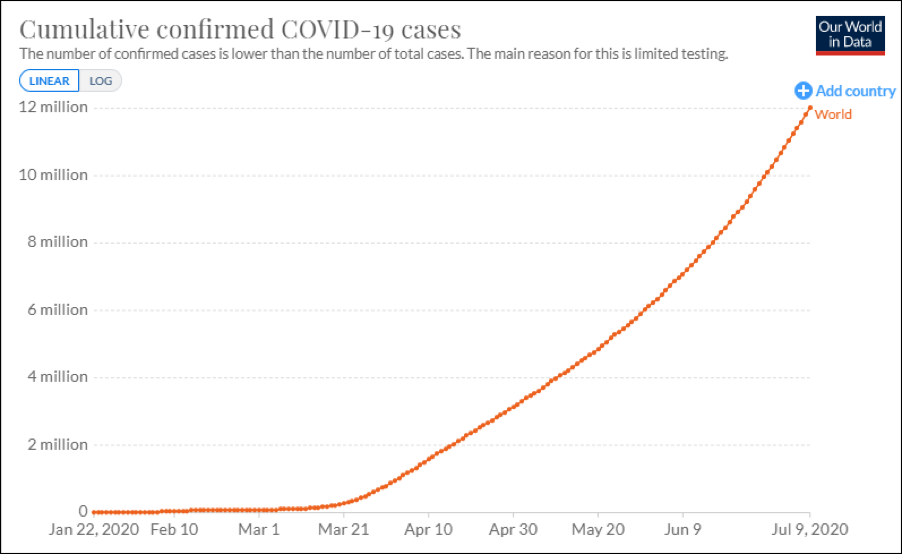 World sees record 212,326 Covid-19 cases in 24 hours
THE World Health Organisation reported a record 212,326 new Covid-19 coronavirus cases in the last 24 hours. The WHO has reported more than 163,000 new cases every day for the past week, led by a rise in the Americas.
As shown on the above chart, there are more than 12 million Covid 19 cases in the world and the number of new cases is still spiking. As a result, the demand for medical gloves far exceeds supply. All the glove makers are increasing their selling prices to make unprecedented profit which is being reflected on their share prices.
That is why all the glove makers' shares are shooting up like rockets. Investors should not sell their holdings because I strongly believe my target price of Rm 18 is achievable when Supermax announces its next 2 quarter results. This is my honest opinion. I am not asking you to buy to push up the share price to enrich me. Readers must remember whether you buy or sell does not make any difference to the share price because the daily traded volume is tens of million shares.