Koon Yew Yin 15 Aug 2020
A few senseless commentators in i3investors were laughing at my buying so many Supermax shares recently. This has prompted me to write this piece.
[ Visit
The Coffee Break
-The top newsletter to know more and learn more. Be smarter in 3 minutes ]
As shown by the price chart below, the price plunged from Rm 24.30 on 11 Aug to Rm 17.92 on 14 Aug, a drop of Rm 6.38 in 4 trading days. It has plunged 26.3% in 4 trading days. This unprecedented crash shocked all investors.
As a result, many people called me to express their concern. Mr Ooi Teik Bee ranged me last night to seek my opinion. We are also wondering why all the glove stocks should be dropping so rapidly in tandem in the last few days. In most cases, one stock might drop but the other might go up instead. It looks like all the Investment Banks ganged up to push the glove share prices down so that they can continue to collect at cheaper prices.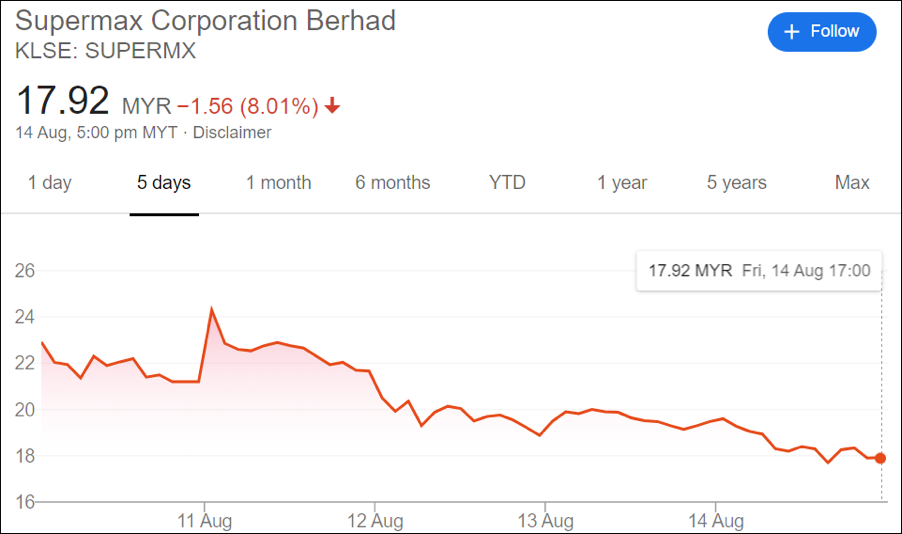 Covid 19 pandemic is affecting everybody and all the listed companies with the exception of glove stocks and other medical products for the prevention of the virus. There are 1,100 listed companies in Malaysia. All the listed shares with the exception of glove and medical products have been dropping continuously due to the pandemic. Until the pandemic is under control, the demand for gloves will continue to exceeds supply and all the glove makers can easily increase their selling prices to make more and more profit.
All the Investment Banks have to cut loss to sell all their holdings to buy glove stocks.
My advice:
As I said many a time, any stock cannot go up or come down continuously for whatever reason. After sometime it will change its trend. In this case, the price correction is too severe to frighten all the sensitive investors. Investors must realise that Supermax has shot up more than 1,000 % in the last few months. So, this price correction should be considered that the company has no more profit growth.
Supermax just announced that the company made a record quarterly profit in the history of the company. It will continue to make more and more profit as long as the pandemic is not under control.
All investors must look at the future of the company. It will give shareholder 1 bonus share for every 1 share held by shareholders and after the bonus issue, it will give shareholder 1 bonus share for every 45 shares held by shareholders.
I am sure this article will alleviate investors' worry.