Thong Guan has announced its 1 quarter EPS of 8.95 sen and recently announced its 2nd quarter EPS of 9.15 sen, totaling 17.74 sen for 1st half year. Assuming the 2nd half year is the same as the 1st half year, its annual profit should be 35.5 sen per share. The company has Rm 181 million cash and its total issued shares is only 160 million shares which means it has more than Rm 1.00 per share.
[ Visit
The Coffee Break
-The top newsletter to know more and learn more. Be smarter in 3 minutes ]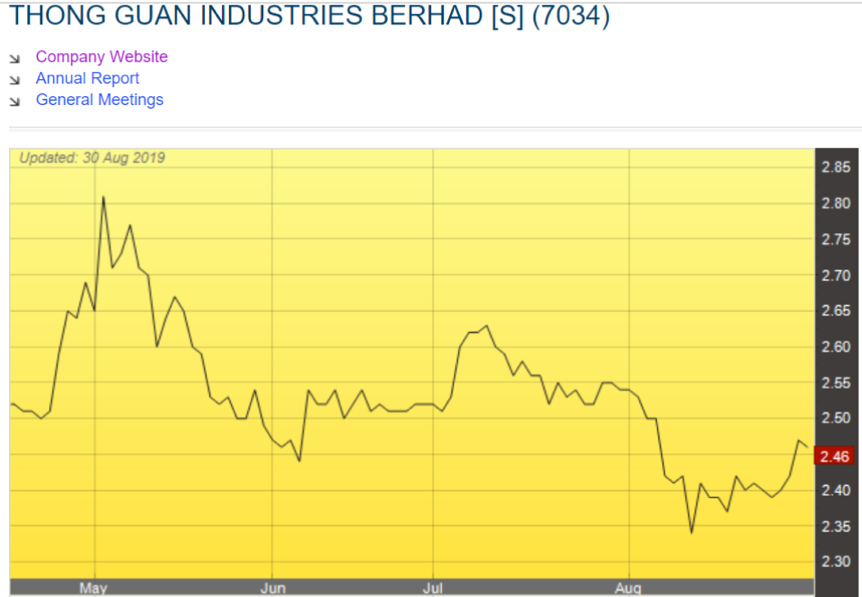 As a result, many value investors would have started buying it as soon as they saw its 1st quarter profit announcement. They must be buying more shares when they saw the company's improved profit in the 2nd quarter.
Since the last traded price was Rm 2.46 currently, many value investor would be tempted to rush to buy it. In fact, I was also tempted to buy because it comply with my share selection golden rule of increasing profit for 2 consecutive quarters. Fortunately I checked the price chart. Never buy a down trending stock.
If it is so good why should the price dropping continuously?
I will not buy it because it is on a down trend and very few shares are traded daily. I am afraid to buy because I will not able to sell my holdings when I decide to sell.
My purpose of writing this article is to support our famous Mr Ooi Teik Bee's preaching that TA is considered more important than FA.