Koon Yew Yin 21 July 2020
Currently there are 14.876 million Covid 19 cases and 614,000 deaths in the world. In the last 24 hours, there was a record number of 212,326 new cases. The 2 charts below show that the number of daily new cases and deaths are still spiking.    
[ Visit
The Coffee Break
-The top newsletter to know more and learn more. Be smarter in 3 minutes ]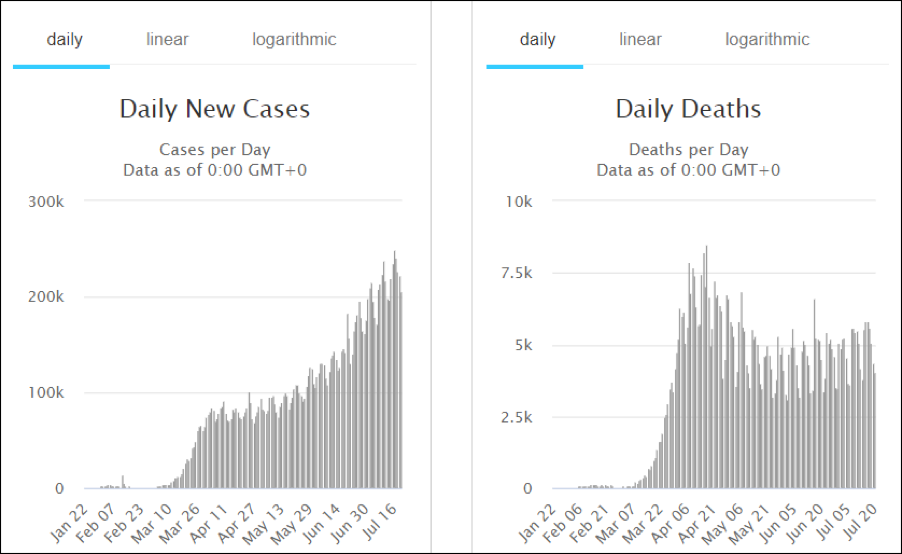 As a result, the demand for medical gloves far exceeds supply. All the glove manufacturers can easily increase their selling prices to make more profit which is being reflected on their share prices.
Investors should know that all the additional selling price is pure profit because it does not involve production cost.
That is why the following 8 research houses updated their target prices for Top Glove as below.
Affin Hwang Outperform Rm 46.40 20/7/2020
Credit Suisse Outperform Rm 37.00 15/7/2020
Kenanga Investment Bank Outperform Rm 32.00 13/7/2020
TA Securities Buy Rm 31.66 14/7/2020
Hong Leong Buy Rm 31.31 15/7/2020
Cimb Securities Buy Rm 31.30 14/7/2020
Nomura Buy 30.65 14/7/2020
Macquaries Outperform 30.40 14/7/2020
I am obliged to inform you that 95% of my investment holdings is Top Glove and I am not asking you to buy to push up the share price to enrich me. In any case, whether you buy or sell do not make any difference to the share price because the 8 Investment Banks are buying aggressively. That is why the daily traded volume is tens of million shares.