Koon Yew Yin 22 Aug 2020
The Director General of WHO just said in Sky News that he hopes the Covid 19 pandemic will be over in 2 years with the approved vaccine. Currently there are 23.07 million Covid 19 cases and 801,000 deaths in the world. As shown on the charts below, the numbers of daily cases and daily deaths are still spiking.
[ Visit
The Coffee Break
-The top newsletter to know more and learn more. Be smarter in 3 minutes ]
Currently a few vaccines are under phase 3 trial. Even if the vaccines are finally approved by FDA, it will take a long time to produce enough of vaccine to inoculate everybody in the whole world to be effective. Unless everybody is vaccinated, those who are not vaccinated will continue to spread the virus to create more patients.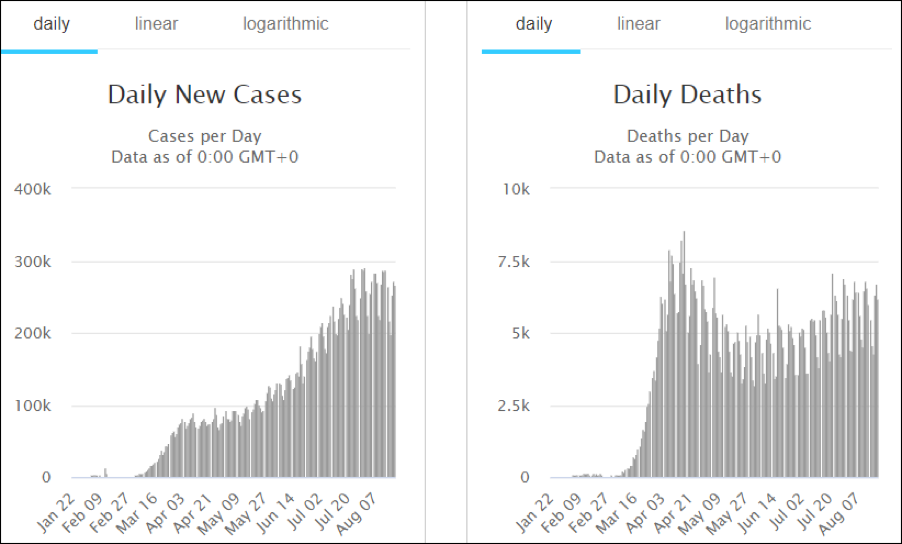 More gloves are required
Even if vaccines are finally approved by FDA, more clinics will have to be opened and more medical workers will be employed who will require more medical gloves.
Due to the urgent demand for more gloves all glove manufacturers can easily increase their ASP, average selling prices to make more and more profit. That is why all the prices of glove stocks are shooting up higher and higher.
The Covid 19 pandemic is affecting everybody and all the listed companies with the exception of glove stocks and other medical products for the virus prevention. All investors should sell off their other holdings to buy glove stocks.
I know many investors are afraid that the vaccine will reduce the demand for gloves. I hope this article will help them decide wisely.