Koon Yew Yin 1 Sept 2020
As shown on the Supermax price chart below, it started going up from March when the price was Rm 1.80 to peaked at Rm 23.78 on 6 Aug. It began to drop when AmBank downgraded all glove stocks from buy to neutral.
[ Visit
The Coffee Break
-The top newsletter to know more and learn more. Be smarter in 3 minutes ]
Again many investors started buying Supermax more aggressively on 19 Aug when the company announced 1 bonus share for every 1 share held by investor. The X date to buy with bonus share is 4 Sept 2020 and all shareholders will receive the bonus shares on 8 Sept.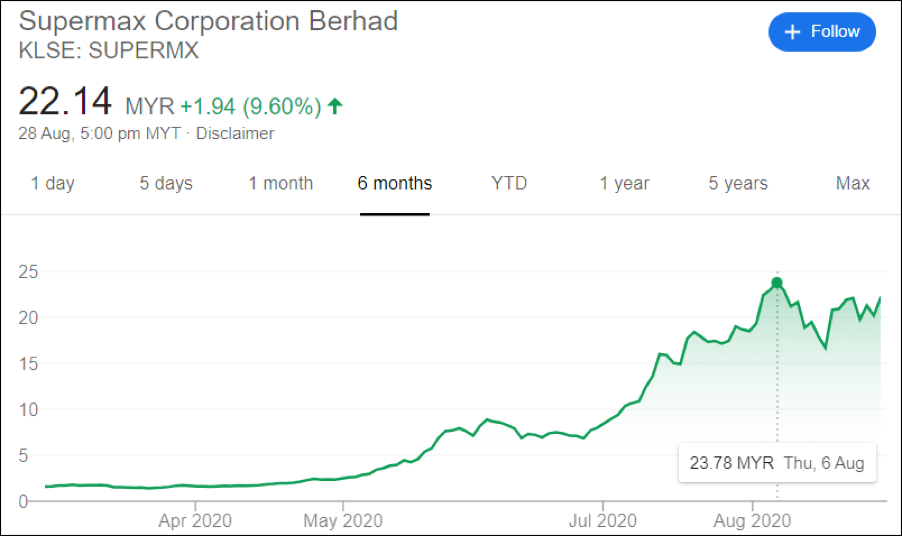 From my past experience, I believe many investors will rush to buy Supermax more aggressively before the X date and the share price will continue to shoot up higher and higher in the next 3 or 4 days to make a new record high. The price will start to drop soon after the X date 4 Sept.
An old adage "It is not what stock you bought; it is when you sell that really matters". Investors must remember that everyone wants to sell at the peak price but be contented if you sell a few sen cheaper.
I believe this article will help investors make good decision.