Koon Yew Yin 26 Sept 2020
Very often I see on i3investor forum many commentators boasting of their sales of glove stocks for fear of the vaccine arrival. Are they selling their glove stocks too early?
[ Visit
The Coffee Break
-The top newsletter to know more and learn more. Be smarter in 3 minutes ]
Current approved vaccines
Currently there are now vaccines to prevent more than 20 life-threatening diseases such as diphtheria, tetanus, pertussis, influenza and measles as you can see a medical wearing gloves to inject a vaccine.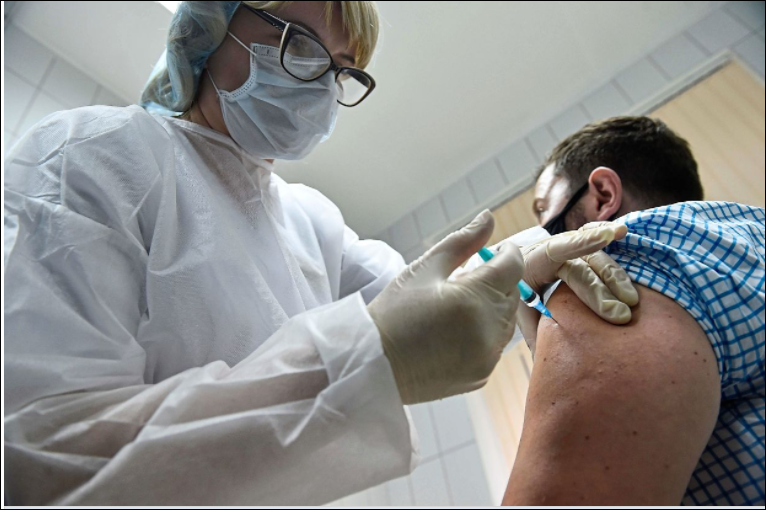 When Covid 19 Vaccine is eventually approved by FDA, more medical staff will be employed and all of them are required to wear gloves to inject the vaccine.
As a result, more gloves will be used.
Currently there are 32.455 million Covid 19 cases, 23.955 million recovered and 988,498 deaths in the world. You can see that the numbers of daily new cases and deaths are still spiking as shown below.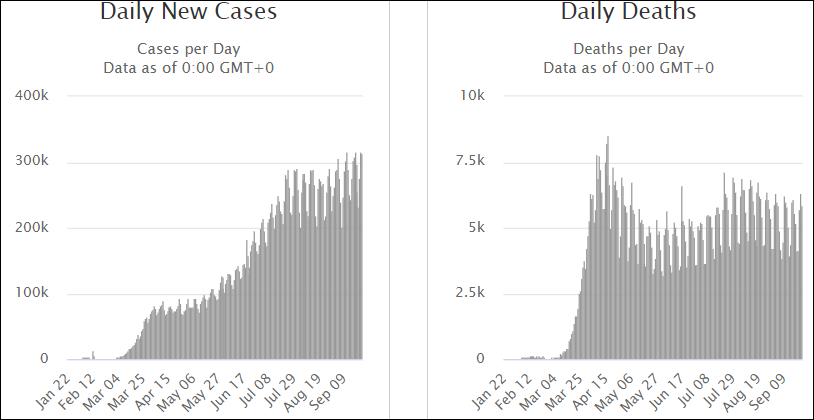 The world is in the midst of a COVID-19 pandemic. As WHO and partners work together on the response — tracking the pandemic, advising on critical interventions, distributing vital medical supplies to those in need— they are racing to find a vaccine.
Vaccines work by training and preparing the body's natural defences — the immune system— to recognize and fight off the viruses and bacteria they target. If the body is exposed to those disease-causing germs later, the body is immediately ready to destroy them, preventing illness.
Covid 19 Vaccine
Many scientists are working at unprecedented speed to make COVID-19 a vaccine-preventable disease.
There are currently over 169 COVID-19 vaccine candidates under development, with 26 of these in the human trial phase. WHO is working in collaboration with scientists, business, and global health organizations through the ACT Accelerator to speed up the pandemic response. When a safe and effective vaccine is found, COVAX (led by WHO, GAVI and CEPI) will facilitate the equitable access and distribution of these vaccines to protect people in all countries. People most at risk will be prioritized.
Experts say that even if a coronavirus vaccine is eventually approved by FDA, it could take years for the world to return to pre-pandemic times.
The Washington Post reported that release of a safe and effective vaccine is only the beginning as sending it out to people in the United States and across the globe may stress distribution networks, the supply chain, and global cooperation, amid little public trust and rising anti-vaccine sentiment.
US regulators require the vaccine produced to be 50 percent effective to reduce the risk of Covid-19 transmission, but herd immunity, where enough of the population is immune to stop the spread of the coronavirus, is also needed.
"We have to prepare ourselves for the idea that we do not have a very good vaccine. My guess is that the first generation of vaccines may be mediocre, "Micheal S. Kinch, an expert in drug development and research at Washington University in St. Louis, was quoted saying.
He cited the HIV/AIDS epidemic that saw a first generation of "fairly mediocre drugs".
Natalie E. Dean, a biostatistician at the University of Florida, was quoted saying: "You can make something work perfectly in the lab; it's a whole other thing to make it work out in the community."
The measles vaccine is 98 percent at preventing the disease. However, the flu vaccine is only 40 to 60 percent effective, as those with a weaker immune system, such as the elderly, require a special high-dose flu vaccine.
Although governments and companies are investing billions of dollars to speed up the production of the Covid-19 vaccine, not everyone will be able to get the vaccine even by the first month when the vaccine is available, The Washington Post reported.
Even those who can get vaccinated immediately, it takes weeks for the immune system to build antibodies against the vaccine and a booster dose may be needed.
At least two-thirds of the community have to take the vaccine to attain herd immunity, said Paul A. Offit, director of the Vaccine Education Centre at Children's Hospital of Philadelphia.
To be effective two-thirds of the people around the world are required to be vaccinated. You can imagine the time required to produce so much of vaccines and more time required to vaccinate so many people.
Even if the vaccine is effective, it will take a long time to produce enough to vaccinate two-thirdsof all the people in the world. Moreover, a lot more medical staff are required and all of them are required to wear medical gloves.
Dr Lee Ming Tai who works for ADB told me that each of his family members had to be tested at KLIA before flying to Shanghai last Sunday. The tester had to wear a new pair of gloves to test each of them to avoid virus transfer just in case the previous tested person has virus.
That is why the demand for gloves continues to exceed supply and all the glove makers are increasing their selling prices to make more and more profit which are being reflected on their share prices.
Many scientists predicted the Covid 19 pandemic will not be under control for at least 1 or more years. Remember the vaccine will not work like a magic wand to stop the use of gloves.
Remember people will laugh at you if you sell your glove shares so quickly. I hope this article will help all the readers make good investment decision.