Koon Yew Yin 1 Oct 2020
The 2009 H1N1 pandemic originated in the United States before spreading around the world, according to the U.S. Centers for Disease Control and Prevention (CDC). A later study suggested it was first diagnosed in humans in Mexico. The CDC estimated that from April 12, 2009 to April 10, 2010, there were 60.8 million H1N1 cases, with 274,304 hospitalizations and 12,469 deaths in the U.S. alone. They also estimate that worldwide, 151,700 to 575,400 people died from (H1N1) pdm09 during the first year. Unusually, about 80% of the deaths were in people younger than 65 years of age.
[ Visit
The Coffee Break
-The top newsletter to know more and learn more. Be smarter in 3 minutes ]
Let me tell you about Supermax's performance during the H1N1 pandemic in 2010. The price shot up from 70 sen to peak at Rm 6.50, an increase of 930% within 6 months. I started buying Supermax as soon as I saw it started to report increasing profit. I continued to buy more and more shares. Eventually my nominees and I were the 2nd largest shareholders as shown on its 2010 annual report below.
My nominees were my wife Tan Kit Pheng, my sister in law Tan Kit Yew and my nephew Yap Sung Pang. We had a total of 19.55 million shares or 7.2% of the total issued shares.
I remember Supermax CEO Dato Seri Stanley Thai invited my wife and I to visit his factory in Sungei Bulou, Selangor. He also invited us for lunch at Eastern Hotel Restaurant in KL to meet Dr Lim Keng Yaik who was a Minister of the Barisan Government then. He needed my financial support.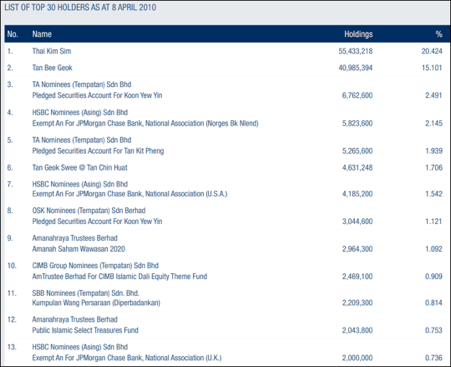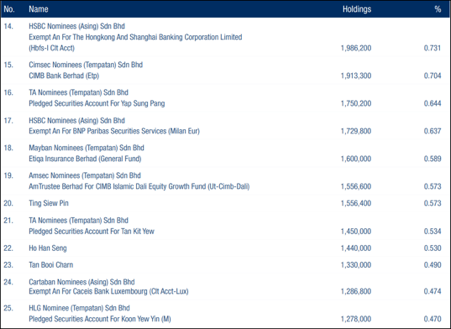 History repeats itself. 
During the current Covid 19 pandemic Supermax shot up from 74 sen on 24thMarch to peak at Rm 11.50 on 5th Aug, an increase of 1,554% in the last 6 months as shown on the price chart below.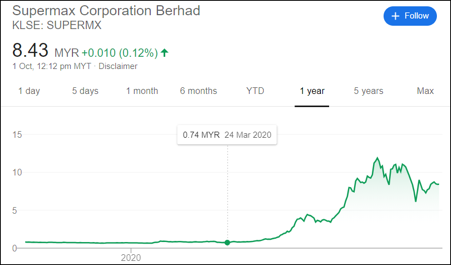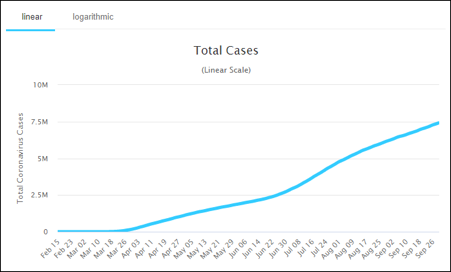 The above chart shows the number of Covid 19 cases in US increasing and the demand for medical gloves will continue to exceeds supply. US is our biggest market for Malaysian gloves. All the glove manufacturers are increasing their selling prices to make more and more profit.

The above table shows Supermax has the best profit growth rate among all the 4 largest glove manufacturers, which is the most powerful catalyst to push up share price. Unfortunately, it is being overshadowed by Top Glove's better marketing technique and propaganda. However, the test of the pudding is in the eating.
In the last 6 months, its share price has shot up 1,554% as shown on the price chart above; while Top Glove has gone up from Rm 2.00 on 6th March to peak at Rm 9.47 on 6th Aug, an increase of 473% as shown on the chart below.