Koon Yew Yin 29 Oct 2020
The chart below shows that the price has been moving up and down like a yoyo in the last 5 trading days. Yesterday instead of snapping up more shares in Supermax after it posted a stellar set of quarterly earnings, more investors rushed to sell to depress the price by 33 sen per share.  
[ Visit
The Coffee Break
-The top newsletter to know more and learn more. Be smarter in 3 minutes ]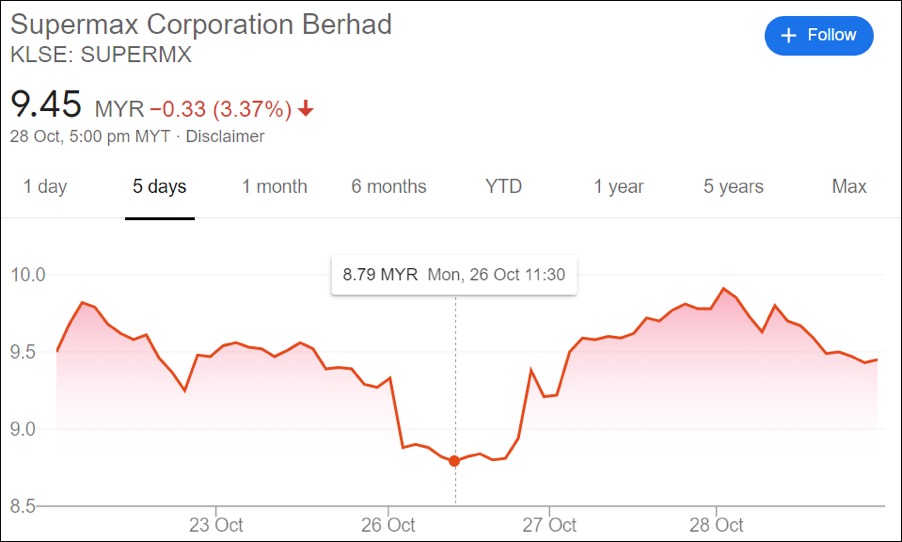 Many investors are so confused and did not know what to do. Some novice even sold their holdings and thought they were so clever. Some short-term day traders bought and sold to make some small sums of money. But statistics shows that 80% are losers, 10% break even and only 10% of the people are winners in the stock market. Day traders are in the 80% group.
In fact, under the current Covid 19 pandemic, the number of losers can even more than 80% because the pandemic is affecting everyone's movement and all the listed companies except medical gloves and medical products for the virus prevention. Out of 1,100 listed companies, the total number of glove stocks and medical products can be counted with your fingers. That is why all the Investment Banks are losers because they have to hold many stocks to spread their investment risk. Investors who do not have glove stocks in their portfolio should get their head examined and those who want to sell must be really stupid.
The chart below shows that Supermax was selling at Rm 70 sen on 23 March and closed yesterday at Rm 9.45, an increase of 13.5 times or 1,350% in the last 7 months.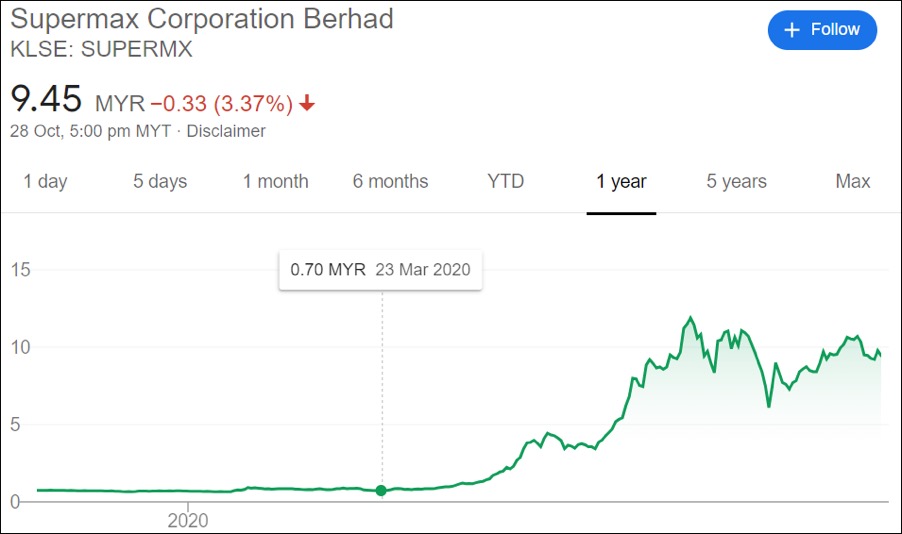 As soon as I saw the company announced its historical best profit I revised my target price as follows:-
1st quarter ending Sept EPS 30.58 sen, an increase of 100% from the previous quarter.
If I assume it can increase its profit by 25% for each of the remaining 3 quarters for the financial year, its EPS for each of the 3 quarters will be:-
2nd quarter EPS will be 37.5 sen
3rd quarter EPS will be 46.88 sen
4th quarter EPS will be 58.60 sen
Total EPS Rm 1.736 for the year. Based on P/E 15, my target price is Rm 26.00.
A few days ago, the company published a very comprehensive report. Page 25 is most interesting. It shows that it has the best profit growth rate among all the glove stocks.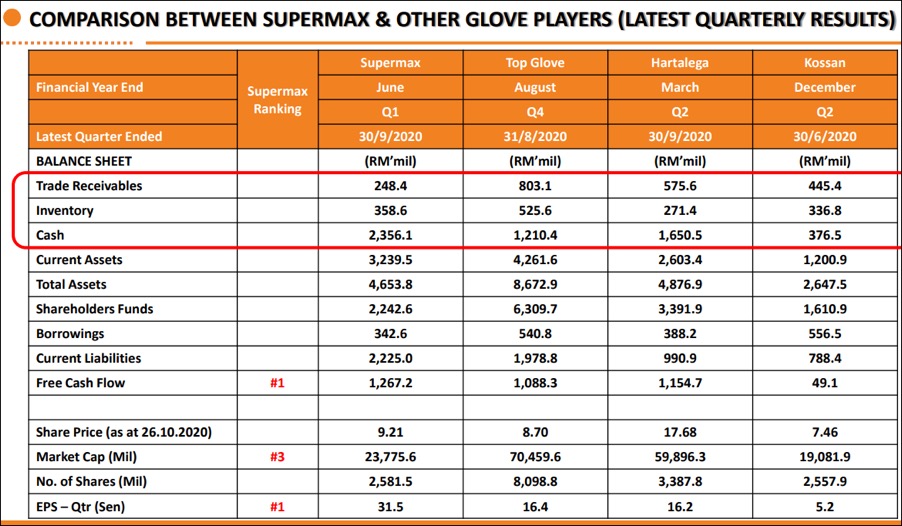 I believe my target price of Rm 26 is achievable because my assumption that it can increase its profit by 25% in each of the next 3 quarters is quite conservative as you can see how rapidly the company could increase its selling prices as shown on the chart below.