Koon Yew Yin 1 Nov 2020

Many investors sold their glove stocks because they are so worried about the uncertainty of our local politics and also the US presidential election. Even American Investors also sold aggressively as shown by the Dow Jones Industrial Average chart below.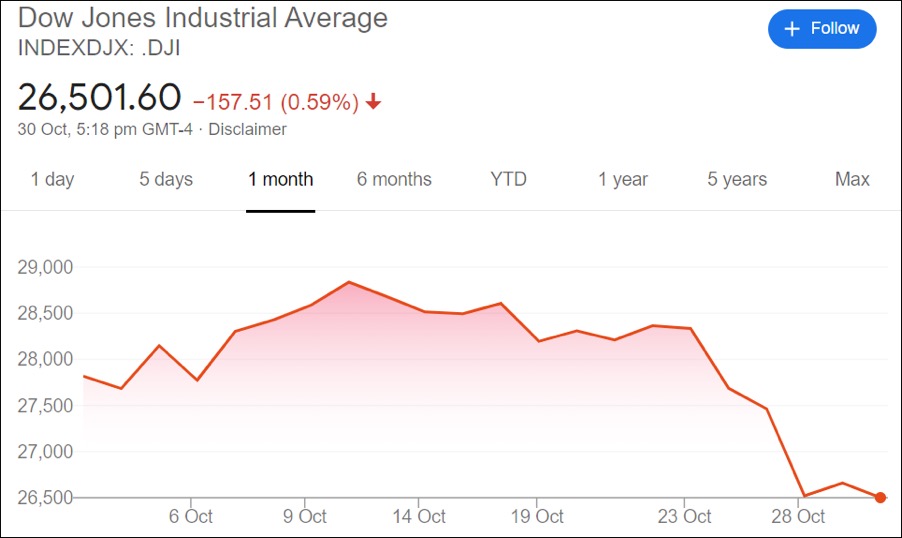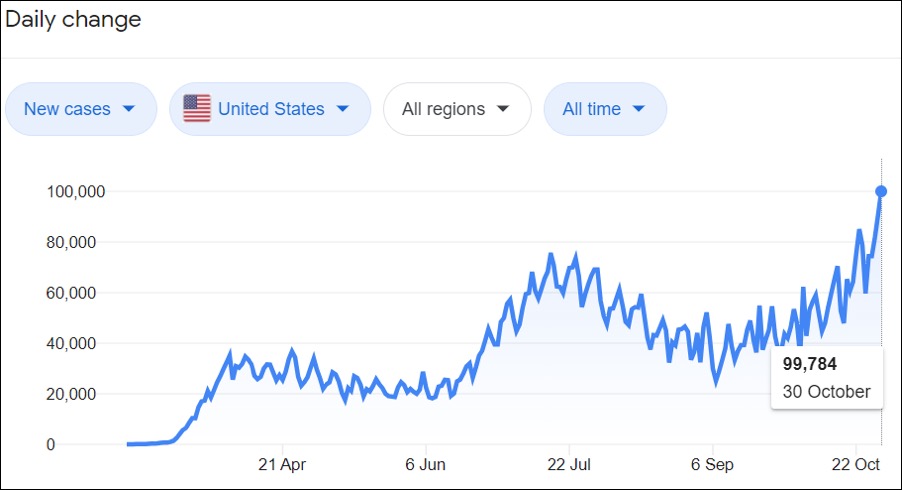 Currently US has 9.402 million Covid 19 cases and 236,072 deaths. The number of daily new cases is spiking higher and higher. The chart shows that there were nearly 100,000 new cases yesterday.
All the US hospitals are full of patients. More medical
[ Visit
The Coffee Break
-The top newsletter to know more and learn more. Be smarter in 3 minutes ]
staff are required and all of them have to wear medical gloves. As a result, US is very short of gloves as mentioned in this article below. Please note the last sentence of the article. A Department of State spokesperson said that embassies have been working with the Malaysian government to obtain more gloves.

Trump Admin is woefully behind in stock piling medical gloves as Covid 19 surges

By Laura Strickler, Stephanie Gosk, Lisa Cavazuti and Brenda Breslauer
The Trump administration was slow to take action amid a mounting shortage of medical gloves, experts said, setting in motion a scramble to stockpile the crucial personal protective equipment as Covid-19 rampages across the country.

The synthetic rubber "nitrile" gloves are a critical barrier to infection for health care workers on the front lines, but experts say the United States is poorly positioned to get ahead of a global shortfall of more than 200 billion.

"Gloves are just needed everywhere," Mary Denigan-Macauley, the Government Accountability Office's director of health care, said.
Denigan-Macauley told NBC News that her team pressed the Pentagon, the Department of Health and Human Services and the Federal Emergency Management Agency over the summer about what they were doing to secure more personal protective equipment, especially nitrile gloves.

She said her team recommended the federal government come up with a plan to "mitigate these critical supply needs," but that no such plan materialized.

"Health and Human Services is woefully behind on reaching their goal of the number of gloves that they would like to stockpile," Denigan-Macauley said.

The Strategic National Stockpile, which is supposed to be the source of last resort after hospitals have exhausted their supplies, is running dangerously low on gloves amid soaring demand across the country.
HHS set a goal to have on hand a 90-day supply in the stockpile, or 4.5 billion gloves. But as of this week it had 2 million, according to department officials.

The department estimates the current demand to be at 8.7 billion a month, or 104 billion gloves per year.

Experts said bolstering the supply chain requires a delicate balancing act — stockpiling too much of a sought-after medical product could drive up prices and make it more difficult for hospitals to obtain them.

In an interview, Paul Mango, deputy chief of staff for policy at Health and Human Services, acknowledged that the government was well below its target for medical gloves.

He said the agency had procured 700 million gloves overseas that would be delivered in the coming weeks as part of President Donald Trump's mandate in April to "rethink the role of Strategic National Stockpile," which includes deepening and broadening the supply, improving data collection on supply and demand, and ramping up domestic production.
"We still aspire to have 4.5 billion in the stockpile," Mango said.
A Department of State spokesperson said that embassies have been working with the Malaysian government to obtain more gloves.