Koon Yew Yin 12 Dec 2020
The table below shows the target prices by Investment Banks. All these Investment Banks cannot be wrong. 
[ Visit
The Coffee Break
-The top newsletter to know more and learn more. Be smarter in 3 minutes ]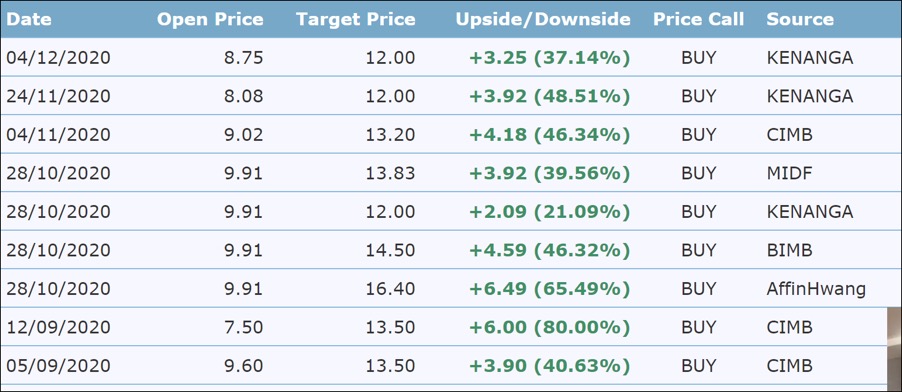 JP Morgan has sent out the following message to down grate Top Glove by about 50% of its last traded price to Rm 3.50. Down grate Hartalega by 38% and Kossan by 30%.
JP Morgan did not mentioned Supermax.
You can read the details below.
KUALA LUMPUR (Dec 11): JP Morgan has reinstated coverage of Top Glove Corp Bhd, but with an underweight recommendation and a fair value of RM3.50 — that's about half its current market price of RM6.90 — as it sees the passing of a supernormal growth cycle for glove makers, in anticipation of a huge oversupply in the market, as glove demand decelerates in tandem with the pace of testing for Covid-19.
Besides the world's largest rubber glove maker, it also initiated coverage of its closest peers Hartalega Holdings Bhd and Kossan Rubber Industries Bhd, also with UW ratings.
It gave a fair value of RM8.50 for Hartalega, down 38% from its last traded price of RM13.72, and a fair value of RM3.80 to Kossan, which is 30% less than its closing price of RM5.39 today.
Its analysts Jeffrey Ng and YY Cheah, in a note to clients today, said they expect glove prices to weaken in the second half of next year.
"Global testing trends have also plateaued, which ought to ease current supply tightness. JP Morgan's proprietary fund flow analysis indicates the glove sector is a crowded trade, implying significant downside momentum. Near-term concerns on rising costs, plus long-term overcapacity risk, spell downside risks. Once Malaysia lifts the short selling ban, downward pressure could be amplified," they wrote.
My comment
It is so ridiculous to down grate Top Glove by 50% of its last traded price to Rm 3.50 after it reported EPS of 29.64 sen for its quarter ending November. Its previous quarter ending August was only 5.32 sen, an increase of 5.7 times.
Perhaps JP Morgan has issued too many call warrants at much higher prices. If Top Glove share price remains so high, JP Morgan will lose a lot of money.
A call warrant is a financial instrument that gives the holder the right to buy the underlying stock shares at a specific price on or before a specified date.
Why didn't JP Morgan mention Supermax ?
The obvious reason is because so many Investment Banks have much higher Target prices as shown on the table above.
Supermax's 1st quarter ending September EPS 30.58 sen. Its EPS was 15.29 sen for its previous quarter, an increase of 100%. Based on Top Glove's performance, Supermax's profit for the next quarter ending December should be another new record profit. Most likely Supermax will announce its result in mid-January, that is about 5 weeks from now. Shareholders should wait patiently.
I believe all the Investment Banks' target prices are easily achievable.