Koon Yew Yin 18 Dec 2020
The Supermax price chart below shows that on 30th   November, it started to drop from Rm 9.10 to close at Rm 6.90 yesterday. It dropped Rm 2.20 or 24% within 2 weeks while the demand for gloves is still surging. The chart shows that it is on a down trend. The question is whether it will continue to drop or not. I wish I have a crystal ball to be able to tell the future.  
[ Visit
The Coffee Break
-The top newsletter to know more and learn more. Be smarter in 3 minutes ]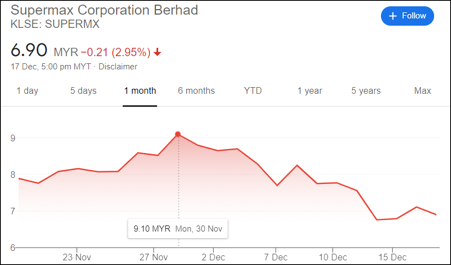 Why investors are selling?
UK and US are starting to inject vaccines to their citizens to prevent the spread of the coronavirus. Many investors are selling because they believe the vaccine will reduce the demand for glove.
Another reason could be the big investors are purposely pushing down the price so that they can buy back at cheaper prices.
Serious long-term investors
Why should it continue to drop when it reported EPS 30.58 sen for the quarter ending September? It made 100% more than its previous quarter. Its profit for its 2nd quarter, ending December should be another new record high. The company will most likely make the announcement in Mid-January.
Most serious long-term investors would not sell because the demand for glove is still surging and all glove makers can easily increase their selling price to make more and more profit. But, if they sold earlier at higher prices, they would be holding a lot of cash to buy back at cheaper price to make more money.
Chart believers
All chart believers sold and they are now cash rich. They are waiting for the price to drop to the rock bottom so that they can buy back at cheaper prices.
The point I want to make is that investors must strictly follow the price chart to make more money. The chart is more important than the financial analysis.
I would like to suggest that if you did not sell earlier at higher prices, you should not sell now because I believe the price is very near its bottom. Moreover, the company will announce its next quarter result soon.