Koon Yew Yin 19 Jan 2021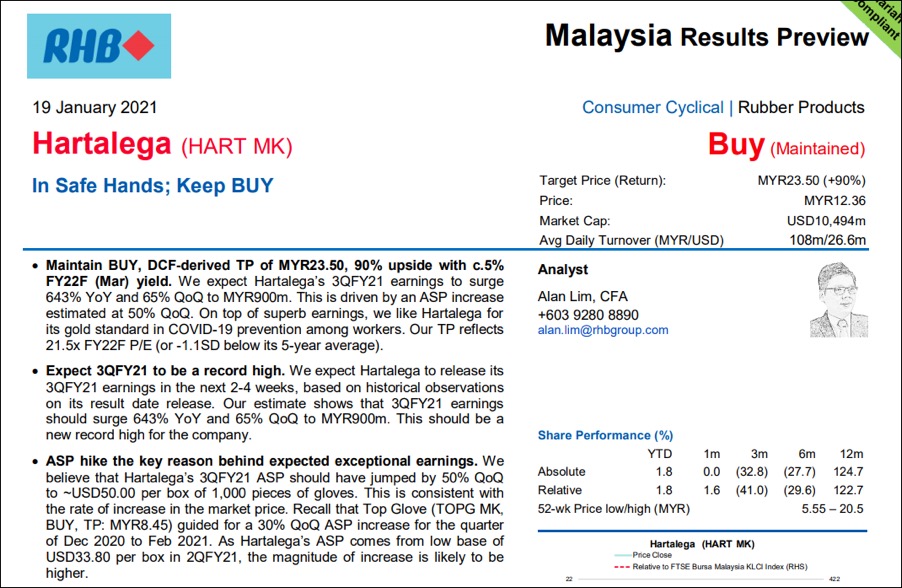 Due to RHB's buy recommendation Hartalega share price is going up higher and higher. But Supermax is dropping. It is so ridiculous.
[ Visit
The Coffee Break
-The top newsletter to know more and learn more. Be smarter in 3 minutes ]
Hartalega is selling Rm 12.42. EPS 15.95 sen for quarter ending September and EPS 6.49 sen for quarter ending June.
Supermax is selling Rm 6.69. EPS 30.58 for quarter ending September and EPS 15.19 sen for quarter ending June.
Based on the above comparison Supermax is very much under price. It deserves a much higher rating.
As you can read from RHB's buy recommendation that due to Covid 19 pandemic the demand for gloves far exceeds supply and all the glove makers can easily increase their selling prices to make more and more profit. Unfortunately, many investors are rushing to sell their holdings because they are afraid the vaccine will work like a magic wand to stop the Covid 19 pandemic.
I am sure there are many smart investors and Investment Banks taking advantage of the buying opportunity to collect more glove stocks especially Supermax.