Koon Yew Yin 28 March 2021
Some anti-China forces in the West, including the United States are concerned about widespread human rights abuses and crimes against humanity, including forced labour, in Xinjiang. They have concocted and disseminated plenty of false information about China's Xinjiang Uygur Autonomous Region.
[ Visit
The Coffee Break
-The top newsletter to know more and learn more. Be smarter in 3 minutes ]
Almost all the people in Xinjiang are Muslims. Like many Muslim countries, they cannot cooperate with one and another. Xinjiang-related issues are not about human rights, ethnicity or religion at all, but about combating violent terrorism and separatism. The Chinese government has launched anti-terrorism and deradicalization efforts in Xinjiang in accordance with the law to protect people's lives, which has garnered ardent support of people from all ethnic groups.
People in the region continue to embrace peace and prosperity and Xinjiang society continues to develop steadily. These facts are the most powerful tool to debunk lies on Xinjiang.
Facts and truthfulness will eventually debunk all lies.
Lie No. 1: Mike Pompeo (former US Secretary of State) claimed that the Chinese government had committed "genocide" against the Uygurs and other ethnic minorities in Xinjiang.
Facts: In recent years, the Uygur population in Xinjiang has been growing steadily. From 2010 to 2018, the Uygur population in Xinjiang rose from 10.17 million to 12.72 million, an increase of 2.55 million or 25.04 percent. The growth rate of the Uygur population is not only higher than that of Xinjiang's total population, which is 13.99 percent, but also higher than that of all ethnic minority groups, which is 22.14 percent, let alone the Han population's two percent.
Xinjiang enjoys social stability, with the people living and working in peace and contentment. The region has made unprecedented achievements in economic and social development and improvement of people's livelihood. From 2014 to 2019, the GDP of Xinjiang increased from 919.59 billion yuan to 1.36 trillion yuan, with an average annual growth rate of 7.2 percent. The per capita disposable income in Xinjiang increased by an average annual rate of 9.1 percent. Remarkable achievements have been made in poverty alleviation. All 3.09 million impoverished people in Xinjiang have been lifted out of poverty. The absolute poverty problem in Xinjiang has been resolved historically.
Xinjiang produces 20% of the cotton in the world.
This fact should debunk all the lies.
Recent history of China
Forty years ago, China was in the middle of the world's largest famine: between the spring of 1959 and the end of 1961 some 30 million Chinese starved to death and about the same number of births were lost or postponed. Two generations later China, which has been rapidly modernising since the early 1980s, is economically successful and producing adequate amounts of food.
In the last 40 years, China has alleviated 500 million people out of poverty. This is the greatest achievement in human history.
Covid 10 pandemic:
The coronavirus started in Wuhan is early 2020 and within 3 months, Wuhan managed to stop the spread of the virus.
Former US President Donald Trump said that the virus was made in China. He called it Konglu. He did not even believe in wearing a face mask which is the first line of defence. As a result, US has 30.2 million Covid 19 cases and 548,000 deaths. US has the most cases in the world. The chart below shows the average daily death rate is about 3,000 which means more than 1 person dies of Covid 19 virus in every minute.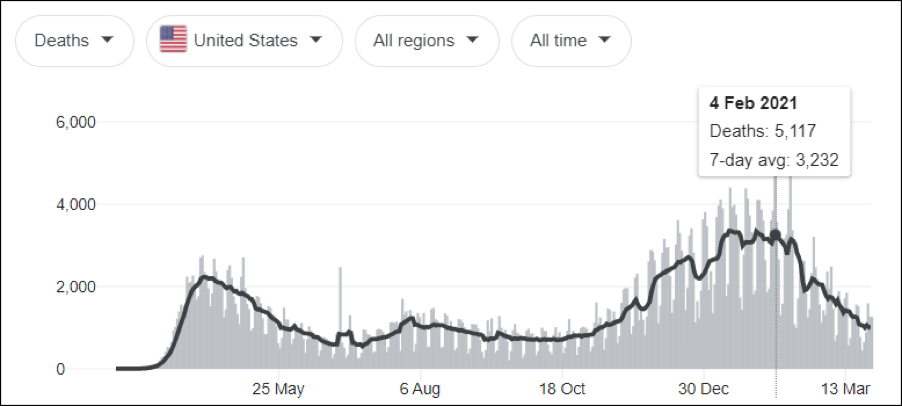 Covid 19 pandemic is the game changer:
Covid 19 pandemic has been affecting the US economy for more than 1 years. The number of jobless claims is constantly increasing. Currently, China is the 2nd richest nation in the world. While the Covid 19 pandemic is depressing US, China continues to make progress and soon China will be the richest nation in the world.