Koon Yew Yin 28 June 2021
The KLCI chart shows that our stock market has been dropping rapidly from 1,700 to 1,548 in the last 6 months. Currently you can see KLIC has dropped 16.8 points; 106 stocks up and 932 stocks down.
[ Visit
The Coffee Break
-The top newsletter to know more and learn more. Be smarter in 3 minutes ]
Almost all the listed companies are affected by the Covid 19 pandemic and our political uncertainty. For example; all the steel stocks have been dropping despite the 50% increase of steel price in the last 12 months.
All the steel stocks are selling at single digit PE ratio. The most profitable steel company, Leon Fuat is selling at PE 2.2.   

Currently the following businesses are being affected.
Kuala Lumpur, Johor and Penang 126 hotels closed
Langkawi, Malacca City 115 hotels closed
KL Parkroyal Hotel will be closed for renovation for 15 months
KL Plenitude closes 3 hotels
KL Syeun Hotel Closed
Kinta River Front Hotel closed
Tower Regency Hotel closure
Hilton Hotel cuts 2,100 employees
Four Points Hotel closure
Expedia layoffs 3,000 jobs
Tioman Resort Closed
Cold storage Petaling historic supermarket closed
100% of tourist agencies are temporarily or permanently closed, causing 370,000 people in the country to shut down
100% of theatres are temporarily or permanently closed, causing 43,000 people in the country to close.
Covid 19 cases in Malaysia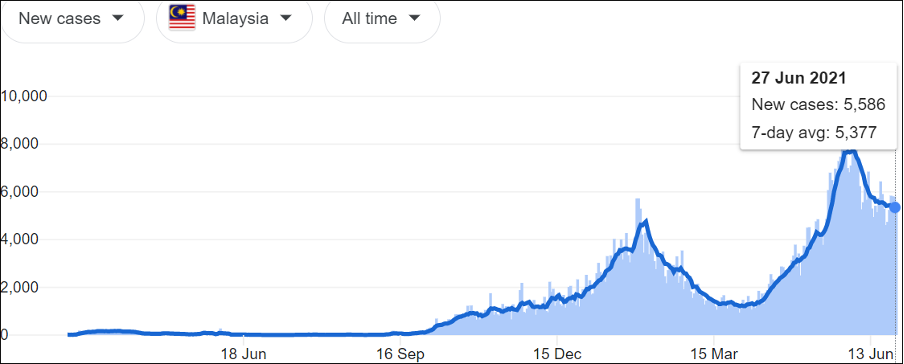 Currently we have a total of 734,048 Covid 19 cases and 4,944 deaths. On 27 June we have 5,586 new cases as shown on the chart above.
As I said many a time, managing the country is like managing hundreds of business operations in every town and village. In any business operation management efficiency is most important. Good managers produce good result and bad managers produce bad result.
In the case of Malaysia, the number of Covid 19 cases and deaths is a true measure of our government's efficiency.
Agong must fix a date for Parliament to reconvene to elect a legitimate strong Prime Minister who is capable of making bold decision to overcome the pandemic.