Koon Yew Yin 9 July 2021
Malaysia has recorded 9,180 Covid-19 cases on Friday (July 9), a new daily record. The highest figure previously was 9,020 cases on May 29. Selangor recorded an all-time high of 4,400 new cases and Kuala Lumpur with 1,271 new infections. 
[ Visit
The Coffee Break
-The top newsletter to know more and learn more. Be smarter in 3 minutes ]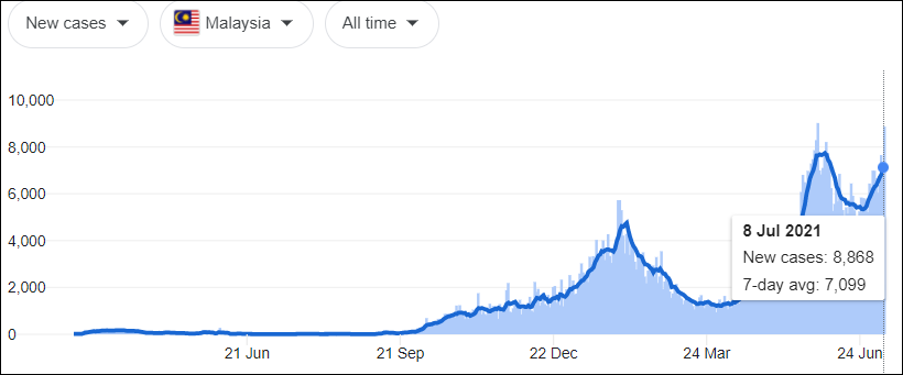 Malaysia's cumulative total number of cases is now 817,838, 725,000 recovered and 5,903 deaths. Today we have more than 8.800 new Covid 19 cases and record 135 deaths. Remember recovered patients will continue to have ill health. 
10% of population to be fully vaccinated by mid-July, says Khairy.
As I said many a time; managing the country is like managing thousands of business operations in every town and city. Good managers produce good result and bad managers produce bad result.
Based on the number of increasing daily new Covid 19 cases and the slow rate of vaccination, our government is obviously inefficient.
Our government must realise that lockdown affects our economy. People cannot go to work to earn money to support their families. Moreover, all business operations are affected and factories cannot produce. As a result, our economy is affected. Moreover, foreign investors are pulling out their investment. That is why our KLIC has been dropping in the last 3 months as shown of the KLIC chart below.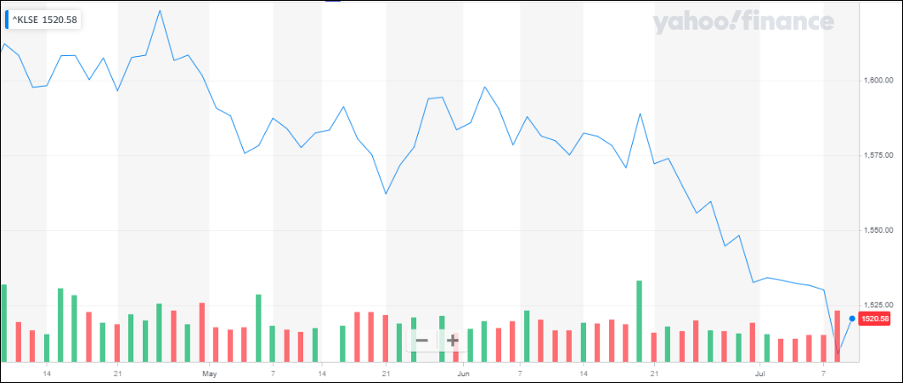 What our PM should have done?
Since China is our biggest trading partner, buying our palm oil and many other products, our Prime Minister could easily ring the Chinese Ambassador in KL to make arrangement to deliver all the Sinovac vaccines we required. If our PM did that a few months ago, most Malaysians would have been vaccinated and the number of new Covid cases would be reduced to a minimum, our economy would recover faster and our stock market would rebound rapidly. Instead, our government is buying Sinovac vaccine from Pharmaniaga and buying other brand of vaccines from other agencies. Our government should buy vaccines directly from the manufacturers to save money.
Currently Muhyiddin is worried sick in Hospital because he did not know how to resolve the Covid 19 pandemic.