Koon Yew Yin 17 Sept 2020
Today Top Glove reported EPS 15.95 sen, Q on Q 271%, Y on Y 1,514%. Despite Top Glove's historical unprecedented profit announcement, it dropped 64 sen and dragged down all the other glove stocks. Supermax dropped 65 sen, Comfort dropped 41 sen, Rubberex dropped 30 sen and Careplus dropped 47 sen.
[ Visit
The Coffee Break
-The top newsletter to know more and learn more. Be smarter in 3 minutes ]
By the way, it is relevant to point out that for the quarter ending June, Supermax reported EPS 15.29, Q on Q 462% and Y on Y 2,552%. It has a better profit growth rate than Top Glove. Based on this profit growth rate, its next quarter profit should be phenomenal.  


Currently, there are 30.076 million Covid 19 cases and 945,845 deaths in the world. The daily new cases and deaths as shown on the above 2 charts are still spiking up daily.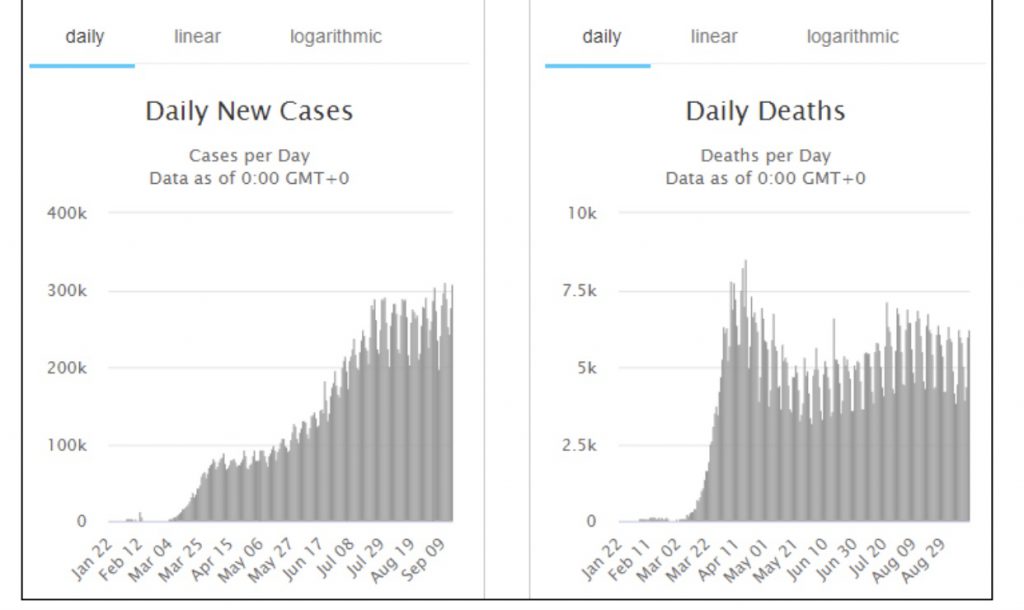 The Covid 19 pandemic is affecting everybody's movement and all businesses including listed companies with the exception of medical gloves and medical products for the virus prevention. As a result, the demand for glove far exceeds supply and all glove makers are increasing their selling prices continuously to make more and more profit. The additional selling price is pure profit because it does not involve production cost.
Investment Banks
It is also relevant to point out that all Investment Banks usually have many stocks in their portfolio. As I said earlier, the pandemic has affected all the listed companies' share prices with the exception of glove stocks. They would have to sell most of their holdings to buy glove stocks. That is why the daily traded volume for each of the glove stock is tens of million shares. Perhaps a few of the Investment Banks have been pushing up and down the glove stock prices to make more money.
As a result, many ordinary investors get so confused and worried.
Today all the glove stocks dropped which defies all logic. Long term investors should not worry about the frequent price fluctuations because the long-term profit growth prospect is still very promising.
Even if you sell now, you will still make a lot of money. But what can you do with the sale proceeds?
Which stock with a better profit growth rate, can you buy? My advice is to buy glove stocks and wait patiently.