Koon Yew Yin 12 Oct 2020
Before the start of the Roland Garros tennis men final at 9 pm last night I placed my message on my chat group and WhatsApp to a few friends. I was so surprised to find out that so few people were interested to watch. I realise the importance of writing this piece.
[ Visit
The Coffee Break
-The top newsletter to know more and learn more. Be smarter in 3 minutes ]
About 20 years ago, I went to watch the tennis grand slam in Wimbledon, London. Unfortunately, due to Covid 19, the management of Wimbledon had to cancelled the tournament for this year and refund money to all the ticket holders.
I also have been to Crystal Palace Football stadium to watch a football match. I also have been to St Andrew, Scotland to watch the British Golf open. St Andrew is the Mecca of golf.
I would like to share with you my experience. When I was in school, I used to play badminton, football, basketball and tennis. I was not good at running because I have shorter legs. But I was very good in badminton and selected to be captain in school and also in college. In 1951, Malaya beat the Americans in America and brought back the famous badminton Thomas Cup. Malaya was the world badminton champion for many years.
I was a crazy golfer
In 1962, when I started practising as an engineering consultant in KL, I joined the Royal Selangor Golf Club. The entrance fee was only Rm 750. I must say golf is an addictive game. I was so crazy, that when I retired from active work, I bought a house in London and took delivery of a BMW from Munich, Germany for the sake of playing golf.
I took my constant golf friends to play golf all over England. My constant golf partners were Too Joon Loke who was Malaysian Golf Champion and Tan Jin Yong who was a Thomas cup player and Tan Seri Ahmad Azizzuddin, Chairman of IJM Corporation Bhd. My friends and I went to St Andrews 5 times to play golf.  The photo below was taken in front of the famous Gleneagles golf club, which is very near to St Andrews.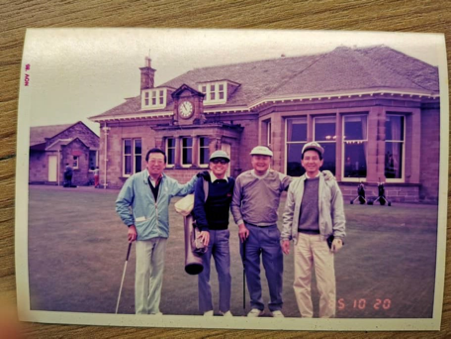 Let me tell you the interesting lesson I learned about human nature. The 3 persons from the left were Dr Lee, Too Joon Loke and Banker Ho Lean Foo. Dr Lee took leave from his busy practice in London to join us to play golf in all the famous golf courses including Gleneagles and St Andrews. As usual we had small bets among ourselves. Due to a small dispute, Dr Lee lost his temper and flew back to London. The pride of winning a few pounds was more important than the cost of flying back to London.
Every year the senior golfer's society organises an annual tournament in Colorado Spring in US. Each country has 10 representatives. About 30 years ago, the captain of our senior golfers, Tan Yee Choon rang to tell me that one of the selected golfers could not go and invited me to join the team. Wah! I went along and enjoyed myself.
Beside health benefit, sports also play the important role of imparting character values. Playing sports can help teach honesty, teamwork and fair play. Learning to follow rules and respecting teammates and opponents can also be useful. Experiencing the role of a graceful winner and loser teaches people about being humble, and competition in general can teach individuals about self-respect, confidence and managing stress. Taking on leading roles within your team can also teach leadership.
In fact, the lessons I learned from sports helped me in doing business. Moreover, physical exercise is helping me to live a happy long life.