Koon Yew Yin 17 Oct 2020
There are about 1,100 listed companies in KLSE. The best performing stock is Supermax. The chart below shows that Supermax has shot up from 70 sen on 23 March to close at Rm 10.5 yesterday. It has increased 1500% or 15 times within the last 6 months.
[ Visit
The Coffee Break
-The top newsletter to know more and learn more. Be smarter in 3 minutes ]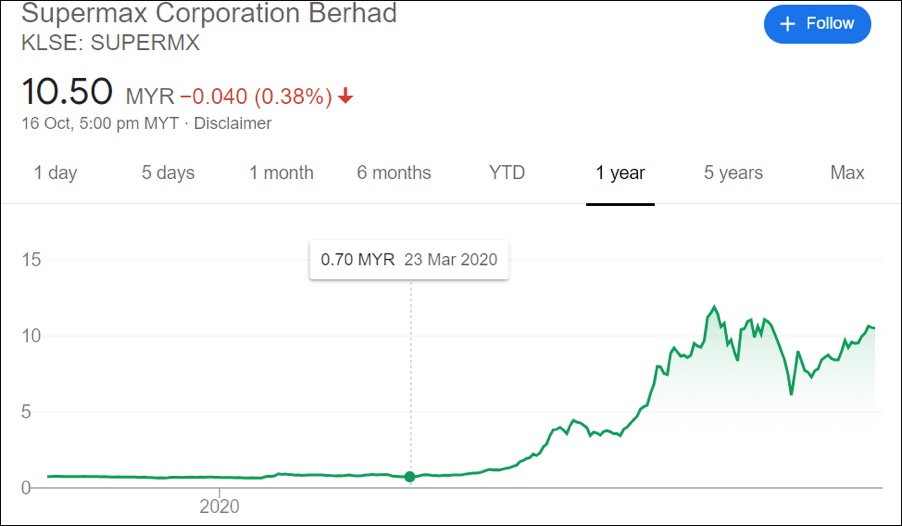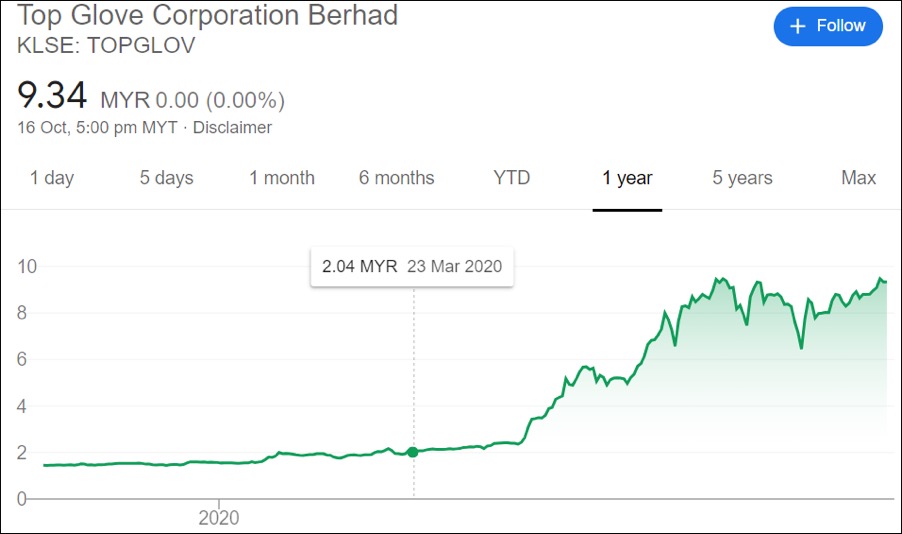 The chart above shows that Top Glove has shot up from Rm 2.04 on 23 March to close at Rm 9.34 yesterday. It has increased 458% or 4.58 times within the last 6 months.  
If you do not have Supermax as your major stock in your investment portfolio, you are not an extraordinary investor. You are just like any ordinary investor.
An extraordinary investor has the following qualities:
1 He must be intelligent with good business sense.
2 He must have a good foresight to be able to see ahead of other investors.
3 He must be able to control his emotion of fear.
4 He must be prepared to take some calculated risk.
5 He can make his own decision and not easily side-tracked.
6 He knows the basic share selection fundamentals.
Among all the share selection criteria such as NTA, cash flow, dividend yield etc the most powerful catalyst to push share price up is profit growth rate. Supermax has the best profit growth rate as shown by the comparison below. The stated share prices were at the time of the result announcements.
Name          Price   Q ending month, EPS   Q on Q    Y on Y 
1 Supermax  Rm 7.72      June       15.29   462%     2,552%  
2 Top Glove.  Rm 7.79       Aug        15.59    271%     1,514% 
3 Kossan      Rm 12.00     June        10.2    102%       134% 
4 Hartalega  Rm 14.10     June        6.49     90%        134% 
Many ordinary investors would have sold Supermax earlier when its share price shot up 2 times, 4 times or 10 times because they did not believe its share price could shoot up 15 times.
Many ordinary investors sold their Supermax because they are afraid that vaccines will be available soon to stop the spread of the virus.
Extraordinary investors should be able to foresee how good will be Supermax's next quarter result which will be announced soon. Supermax has its own brand and sale outlets in all the major cities in US and many other countries.
Only extraordinary investors can believe that Supermax will continue to go up higher and higher until Covid 19 pandemic is completely under control. Many scientists predicted that the pandemic will not be under control for at least 1 or more years. Even if the vaccine is finally approved, it will take a long time to produce enough to vaccinate 70% of the people in the world to stop the spread of the virus.
Moreover, a lot more medical workers would be employed to vaccinate so many people and they all will require gloves.