Koon Yew Yin 17 Oct 2020

About 4 months ago, the World Bank's International Comparison Program (ICP) had released its latest price levels and GDP across 176 countries. The results were striking. For the first time, the ICP found that China's total real (inflation adjusted) income was slightly larger than that of the US. In purchasing power parity (PPP) terms, China's 2017 GDP was US$ 19.617 trillion whereas the US stood at US$ 19.519 trillion.

By contrast, measuring GDP in PPP terms is more appropriate for comparing standard of living because it accounts for the fact that many goods and services are cheaper in China than they are in US. Generally speaking, one Yuan spent in China will go much further in China than one Yuan spent abroad.
[ Visit
The Coffee Break
-The top newsletter to know more and learn more. Be smarter in 3 minutes ]

US President Trump is helping China

Four years ago, when Donald Trump, a businessman, became the US President, I thought it would be good for all the nations in the world because almost all the previous Presidents were professional politicians. As a result, US fought 13 wars after the 2nd world war. It dropped more bombs in Vietnam than in the 2nd world war.

I thought, Trump with his business experience, he could improve the economy of both US and China. I was so wrong. To reduce US trade deficit with China, he immediately declared a trade war with China by imposing import tariff and banning import of certain Chinese products such as Huawei 5G and Tik Tok etc.

US has been China's biggest export market for a long time. Almost all the products in the US Walmart, Kmart and DIY Stores are made in China. Walmart and Kmart are the 2 largest retailers of electronics, toys, clothing, bedding, furniture & home decor. No Americans including Trump can pass a day without using a Chinese product.

Covid 19 pandemic is the Game Changer

China had the Coronavirus in Wuhan in early January and the Government immediately lockdown the whole city of 12 million people. Within 3 months the pandemic was under control. The number of new cases can be counted with your fingers. It looks like China is now one of the safer places to live in the world. The Chinese people are very disciplined and they have started to recover very quickly as shown by the latest economic growth report.

Covid 19 cases in US

Currently US has a total of 8.34 million Covid 19 cases as shown on the chart below and 224,256 deaths. These 2 figures are still rising. US has the most Covid 19 cases in the world. Its population is about 4% of the world population but it has about 20% of the total Covid 19 cases in the world.
Currently the daily number of new cases in US is about 70,000. Based on this figure, US will have an additional 2.1 million new cases every one month. Many scientists predicted that it will take at lease 1 or more years to stop the spread of the virus. It is very likely US will have another 20-30 million Covid 19 cases before the pandemic is completely under control.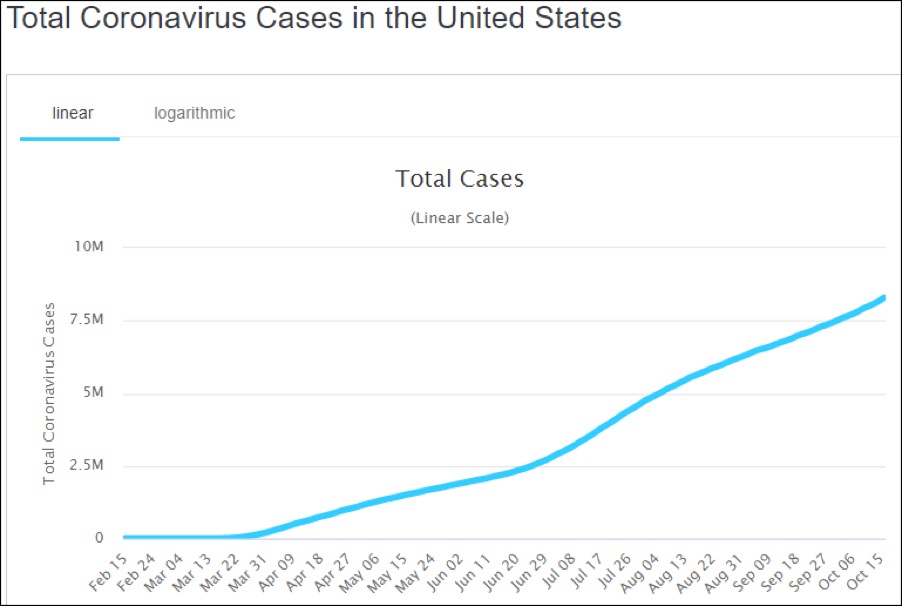 President Trump and more than 30 of his family members and staff in the White House have tested Coronavirus positive; yet, Trump does not believe in wearing a face mask. Now all his secret service personals insist on wearing face masks.
• The COVID-19 pandemic has caused the biggest blow to the US economy since the Great Depression.
• GDP fell at a 32.9% annualized rate, the deepest decline since records began back in 1947.
• 30.2 million Americans were receiving unemployment checks in the week ending July 11.

The U.S. economy suffered its biggest blow since the Great Depression in the second quarter as the COVID-19 pandemic shattered consumer and business spending, and a nascent recovery is under threat from a resurgence in new cases of coronavirus.

The import tariffs affect the consumers and the American companies. 3,500 US companies have filed lawsuits.

More than 3,500 companies have filed lawsuits against the US government over its tariffs on China in recent weeks, demonstrating the extent of unhappiness among businesses over Donald Trump's trade wars. Coca-Cola, Disney and Ford are among the many large multinational corporations to launch legal proceedings.
China is progressing quickly to overtake US

The 2 charts below show the comparison of China GDP growth rate and the US growth rate in the last 10 years. You can see that China is growing much faster than US.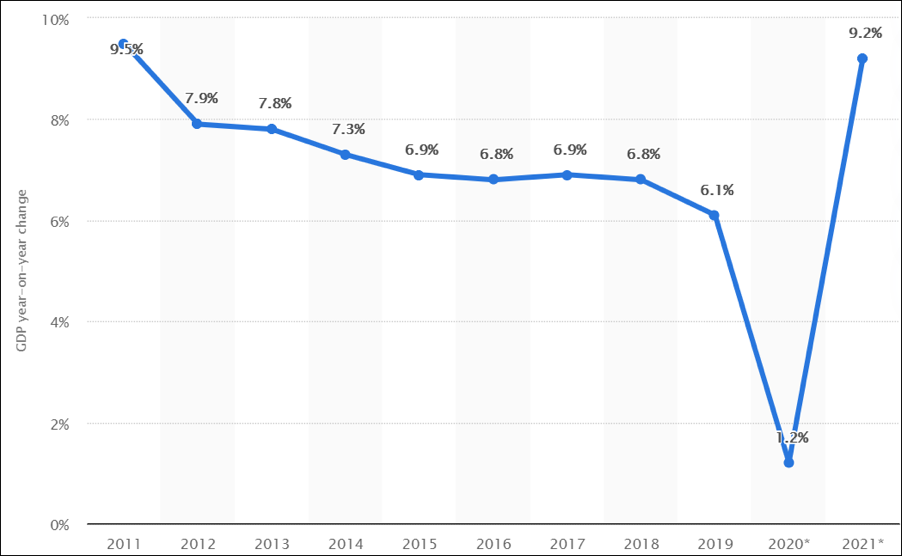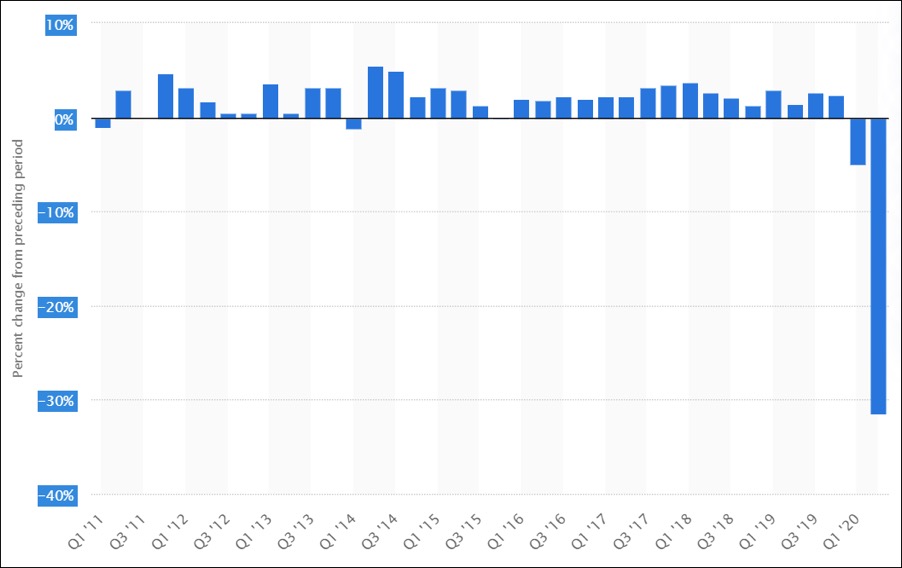 People: Americans no longer feel the need for extra effort, while Chinese students have clear plans for their professional future and, as employees, willingly make the extra effort for their firms. American unions are adversarial and distrustful while China has the highest union participation on earth yet employees fully understand that businesses must make money to pay their salaries.
Social harmony: Confucius, the great political scientist observed, "Rulers who led their people to the Realm of Lesser Prosperity, a xiaokang, lifestyle, were themselves pillars of courtesy, sincerity, justice and virtue while those who did not, lost power and everyone regarded them as pests". Low crime, no religious nonsense or Islamic violence. Companies can invest safely without fear of religious unrest, violence or robbery
Education: Chinese high school students graduate three years ahead of America's. One-fourth of the world's STEM workers are Chinese, an intellectual workforce eight times larger and growing six times faster than America's. By 2025, China will have more technologically skilled workers than the entire OECD (USA, EU, Canada, Mexico, Australia, Israel, Japan, Korea, New Zealand, and Turkey) combined. Two percent of Chinese–twenty-eight million people–have an IQ of 140 ('gifted'), sufficient for membership in Mensa. The Chinese overall five-point IQ advantage over Americans means that they have 300,000 people with 160 IQ, compared to 10,000 in the US. No country has so many smart, fast thinking people as China. Not just students or professionals, but ordinary people.
That's why China is the world leader in 5G and most new technologies.
• China leads the world in basic research and in most technologies, especially hot areas. China has overtaken the US to become the world's largest producer of scientific research papers, making up almost a fifth of the total global output, according to a major new report.
• China dominates a global ranking of the most-cited research papers published in the 30 hottest technology fields. Though the U.S. accounted for 3.9 million research papers overall compared with 2.9 million from China, the Asian country produced the largest share in 23 of the 30 fields that drew the most interest.
• According to the Japan Science and Technology Agency, China now ranks as the most influential country in four of eight core scientific fields and is overtaking America in the other four.
• The Allen Institute for Artificial Intelligence (Ai2) examined not just the number of AI research papers coming from China but the quality of those papers—as judged by the number of citations they receive in other work. China will overtake the US in the most-cited 50% of research papers this year, the top 10% of research papers in 2020, and the top 1% by 2025. China is already ahead in the number of AI patents filed, AI venture capital invested, and research papers cited worldwide. The number of Chinese students studying AI and graduating from universities worldwide exceed the total number of other countries' AI students combined.
Finances: Since its economy is growing three times faster and all its debt is domestic, China's debt burden is one-third of America's, while the Financial Times says, "America will need to sell $12 Trillion of bonds in the coming decade. Who on earth–or in global finance–will buy this looming mountain of Treasuries, the US borrowing requirement even before Trump's major upgrade of America's weapons systems? ..These borrowing needs will all have to be financed in the context of already high global dollar debt exposure. One of America's biggest hedge funds privately concluded that in five years' time the Treasury will need to sell bonds equivalent to 25 per cent of gross domestic product, up from 15 per cent now. This level of debt has occurred just twice in the past 120 years, first during the second world war and then again during the 2008 financial crisis." Infrastructure: New, automated highways, railways, airports, subways and ports and, next year, the world's fastest, most advanced Internet and an entire city built around 5G.