Koon Yew Yin 19 Oct 2020
Before you read the details of the Covid 19 cases in Malaysia, I wish to state here the proven method to prevent the contact and spread of the coronavirus.
[ Visit
The Coffee Break
-The top newsletter to know more and learn more. Be smarter in 3 minutes ]
1 You must wear a face mask whenever you are out of your house.
2 Practice social distancing; do not stand nearer than 2 meters from another person.
3 Avoid going out. If you have to go out, when you return home immediately you must wash your hands with soap and water.
4 Get yourself tested as soon as you feel feverous and uncomfortable.
5 Never forget life is more important than money.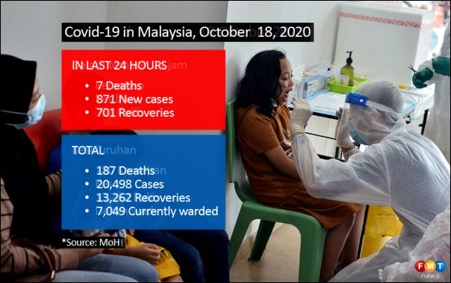 PUTRAJAYA (Oct 18): Covid-19 cases in Malaysia hit fresh highs for the second day in a row, as it rose to 871 cases in the past 24 hours — barely beating yesterday's record of 869 new infections.
Today's number of new cases is the highest since the pandemic first struck Malaysia in January.
Health director-general Tan Sri Dr Noor Hisham Abdullah said cumulative cases have crossed the 20,000-mark to 20,498.
However, on a happier note, he said that 701 patients have recovered from the disease and were discharged — the highest ever number of daily recoveries in the past 24 hours.
There were seven Covid-19 related deaths today, which brings Malaysia's death toll to 187 cases, he said.
The number of Covid-19 patients undergoing treatment also crossed the 7,000 mark for the first time to 7,049 patients today.
So far, 86 Covid-19 patients are undergoing treatment in intensive care units (ICU), with 28 of them needing a ventilator to breathe.
Out of the 871 cases today, 702 were recorded in Sabah, the worst-hit state at present, followed by Selangor with 72 cases and Penang with 45 cases.
Noor Hisham attributed the jump in cases to the huge number of samples from Sabah that was sent to the Institute for Medical Research. "Since the beginning of the Covid-19 pandemic in Malaysia, the government has conducted Covid-19 detection tests on 251,030 individuals in Sabah. This follows active case-tracing carried out by public health authorities as a measure to control the spread of the disease in Sabah," he said, noting that the positivity rate in the state stood at 2.96%.
Sabah has recorded 7,439 cumulative cases to date, which accounts for 36.3% of cumulative cases in Malaysia.
Noor Hisham also revealed four new clusters today.
The Alma cluster, which involves the Seberang Perai Selatan and Seberang Perai Tengah districts in Penang, has caused seven cases of Covid-19.
So far, 183 people have been tested, with 43 tested negative and a further 133 awaiting their results.
Meanwhile, the Auto Cluster which encompasses the districts of Petaling, Kuala Langat and Klang in Selangor and Seremban in Negeri Sembilan, has caused nine cases.
The Bah Layangan cluster in Labuan, Sabah and Rembau, Negeri Sembilan has caused 13 cases of Covid-19. So far, 142 individuals have been screened, with 67 testing negative and 62 pending results.
Meanwhile, the Kepayan prison cluster emerged in Kota Kinabalu, Sabah. Out of 170 people who were tested, 49 were positive for Covid-19, while 121 tested negative for the coronavirus.
Malaysia could hit 5,000 daily cases by month's end if no action was taken — MoH