Koon Yew Yin 20 Oct 2020
A few days ago, someone in my chat group asked me to comment on this stock because he was interested to buy it. I am shocked to see that it has been shooting up higher and higher every day. It was selling at Rm 1.38 on 19 March and it closed Rm 8.08 today, an increase of Rm 6.70 or 486% in the last 6 months.
[ Visit
The Coffee Break
-The top newsletter to know more and learn more. Be smarter in 3 minutes ]
I am so shocked to know that it is so much overvalued.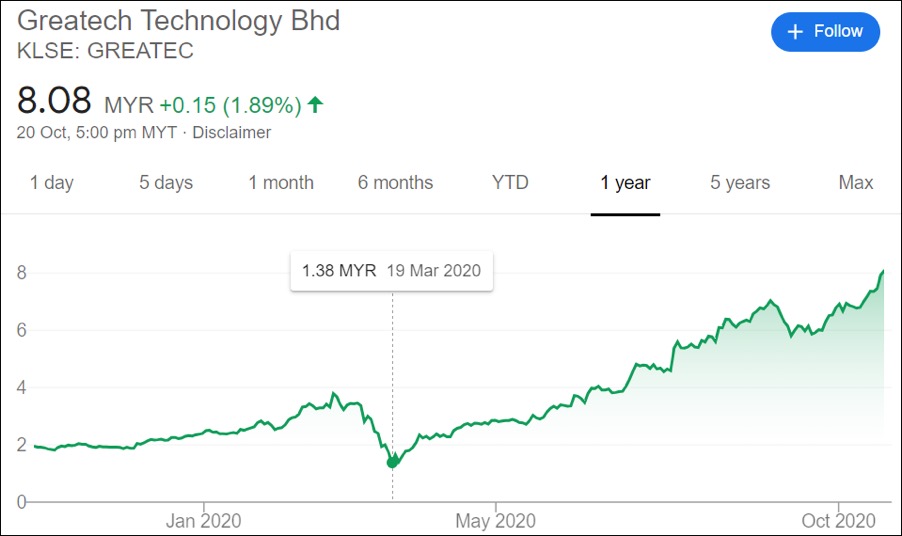 The above table shows that its latest 4 quarter EPS were 2.82 sen, 2.95, 2.56 and 2.06 sen. The total EPS for the last 4 quarters was 10.39 sen and the share price is Rm 8.08. Moreover, the earnings for the last 4 quarters were flat and these figures do not show that the company has profit growth prospect which is the most powerful catalyst to push up share price.
Although the company proposed to give 1 bonus share to every 1 share held by shareholders, these additional shares do not help the company to make more profit.
Investors should not buy it until the company can report increasing profit for 2 consecutive quarters.
No wonder why the statistics show that 90% of the investors are losing money in the stock market. That is why there are so many stupid investors chasing to buy it at Rm 8.08 per share.