Koon Yew Yin 5 Nov 2020
Before the US election, all my friends thought Trump would lose badly. We are surprised that Joe Biden did not win by a landslide victory. At this moment Joe Biden won 264 electoral votes, 50.3% of the total votes cast. Donald Trump won 48% of the total votes cast as shown on table below. 
[ Visit
The Coffee Break
-The top newsletter to know more and learn more. Be smarter in 3 minutes ]

Joe is now short of electoral 6 votes to be the new US President. I am surprised that Trump won about 68 million votes and Biden won only about 3 million more votes than Trump. That is why Trump wants to file lawsuits challenging the election results in several states.
That simply means the 68 million voters for Trump considered his method of managing the Covid 19 pandemic and the economy are acceptable. Yet, all the people I know including Google acknowledged that Trump is an idiot. If you Google IDIOT you will find Trump. He is mentally unsound.
Currently US has 9.801 million Covid 19 cases and 239,829 deaths, the highest number of cases in the world. The number of cases is still spiking up higher and higher as shown on the chart below. Trump does not want to follow the Chinese proven method of controlling the spread of the virus. Trump does not even believe in wearing a face mask which is the first line of defence against the virus. He called it the Chinese virus or Kongflu. He said no one will talk about the Covid 19 after the election. It will simply disappear.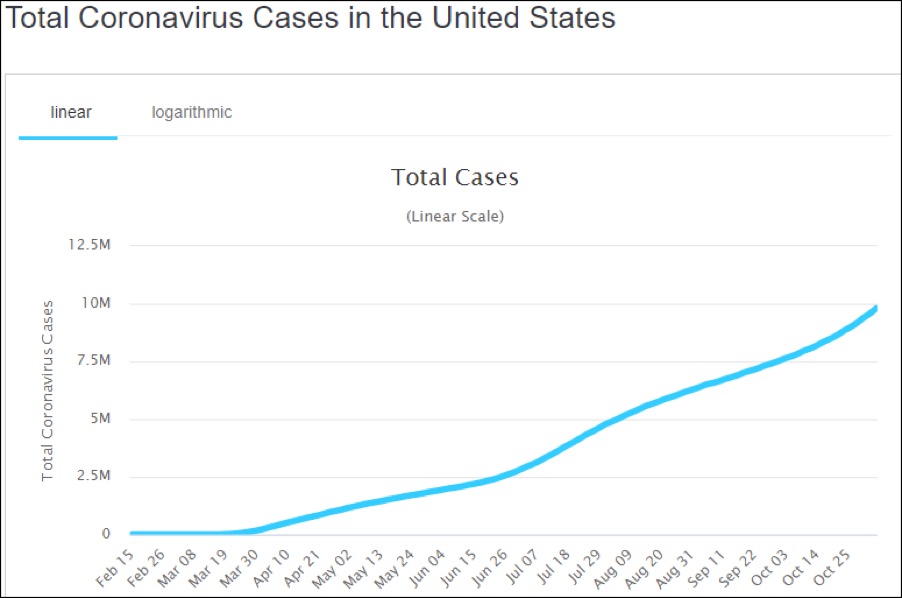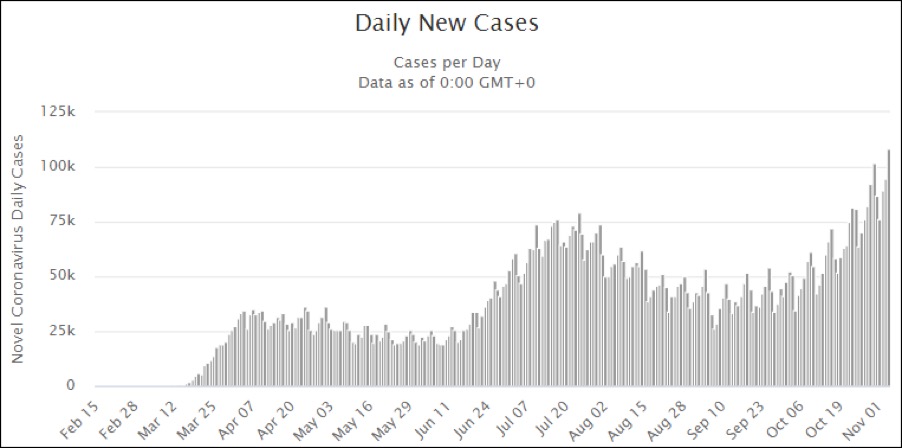 Besides Trump's mismanagement, the American people generally want freedom. They do not like their movement restricted and lockdown. The people's excessive claim for freedom is the reason why the US has the most Covid 19 cases in the world. 
BTW the US is our biggest market for our gloves. Shareholders of glove stocks must thank the American people for making us so rich.
In my previous article namely "China will overtake US slowly but surely" I said I hope Trump will win his re-election to remain the President so that China can overtake US quicker. Based on the number of voters for Trump, even if Joe Biden is the new President, it will make no difference.
China will surely overtake US.