Koon Yew Yin 21 Nov 2020
All the business men are trying very hard to make more and more profit to establish a track record to be able to list their companies. That is their main objective for doing business. When a private company is listed on the stock exchange, it becomes a public listed company. The listed status allows the controlling shareholders to issue additional shares to sell to the public to get additional cash capital to do more business.
[ Visit
The Coffee Break
-The top newsletter to know more and learn more. Be smarter in 3 minutes ]
For Top Glove to buy back your own shares is counterproductive or having the opposite desired effect.
Top Glove Corp Bhd has spent close to RM1 billion buying back its own shares since September. Top Glove has bought back shares for the ninth straight trading day. The world's largest glove maker forked out RM69.94 million again to buy 9.58 million shares on the open market. The latest filing shows that the price range it paid was between RM7.25 and RM7.35.
The total amount Top Glove has spent on share buy backs this month to RM629.13 million, after spending RM355 million in September.
Top Glove wants to create the impression that its share price is underrated and also wants to prevent the share price from dropping lower. As you know the daily traded volume is several tens of million shares. After spending Rm one billion the share has no effect on the share price as shown on the price chart below.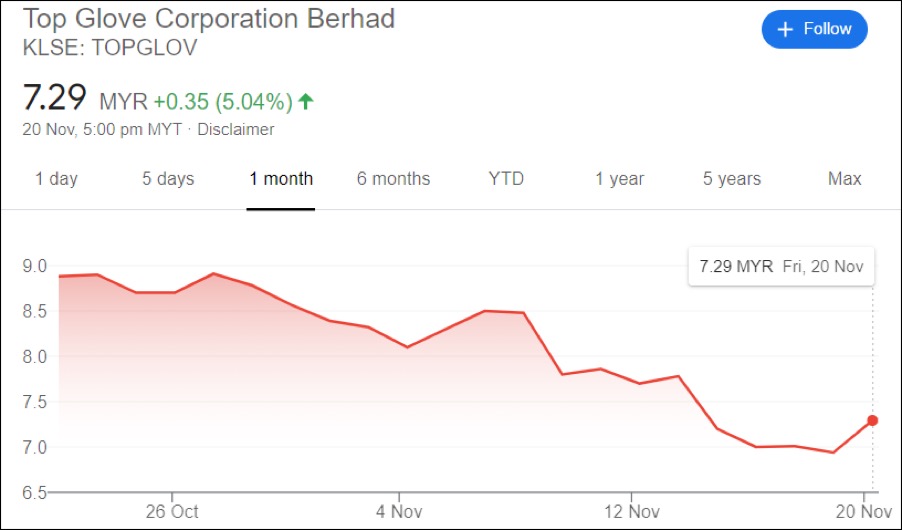 That is why I said for Top Glove to buy back your own shares is counterproductive.
Top Glove's top management team must realise the best way to push up the share price is to report increasing profit in every quarter and give out better dividend. Instead of spending one billion Ringgit to buy back its own shares which is counterproductive, the money should be used more effectively to make more profit. For example; to construct more factories to produce more gloves, to improve the glove production efficiency, to improve the propaganda machinery and to improve the management efficiency at every level.
Instead of spending Rm 1 billion to buy back its own shares which is counterproductive, give the money to all the shareholders as dividend. If the Rm 1 billion were given out as dividend, the shareholders would definitely use the money to buy more shares to support the price from falling further down.
Stock selection criteria
Among all the stock selection criteria such as NTA, good cash flow, healthy account, dividend yield etc the most powerful catalyst to push up the share price is profit growth prospect. Unless Top Glove can continue to report increasing profit in every quarter, its share price will drop.
As shown on the price charts below, on 3 march the price for Supermax was 81 sen and Top Glove was Rm 1.90. The closing prices for the 2 stocks were Rm 8.08, and Rm 7.28 respectively. The share prices have been adjusted by the share bonus issues.
Supermax share price shot up from 81 sen to Rm 8.08, an increase of 10 times.
Top Glove share price shot up from Rm 1.90 to Rm 7.28, an increase of 3.8 times.