Koon Yew Yin 24 Nov 2020
Malaysia reported a record 1,884 new COVID-19 cases on Monday (Nov 23), following a spike in infections linked to workplace clusters in the Klang Valley.
[ Visit
The Coffee Break
-The top newsletter to know more and learn more. Be smarter in 3 minutes ]
This is the highest daily number of new cases since the outbreak of COVID-19 in the country, said Health Director-General Noor Hisham Abdullah.
Malaysia has recorded a total of 56,659 COVID-19 infections to date, of which 13,842 are active cases. Two more fatalities – both in Sabah – were also recorded on Monday, taking the national death toll to 337.
On Nov 23: Top Glove Corp Bhd has confirmed that it will temporarily shut down 28 factories in Klang, Selangor following an insurgence of Covid-19 cases among its workers. Top Glove, the world's largest glove manufacturer, has 41 factories in Malaysia.
Malaysian government has ordered staggered closures after surge in COVID-19 cases at world's biggest glove maker.
Top Glove worker hostels west of Kuala Lumpur have been under a strict lockdown for a week. Now the government has ordered phased factory closures so all staff can be tested for COVID-19
Top Glove, the world's biggest manufacturer of medical gloves, has said it will fully cooperate with the Malaysian government on the staggered closure of its factories to allow all staff to be screened for COVID-19 amid an escalating outbreak of the coronavirus among its workforce.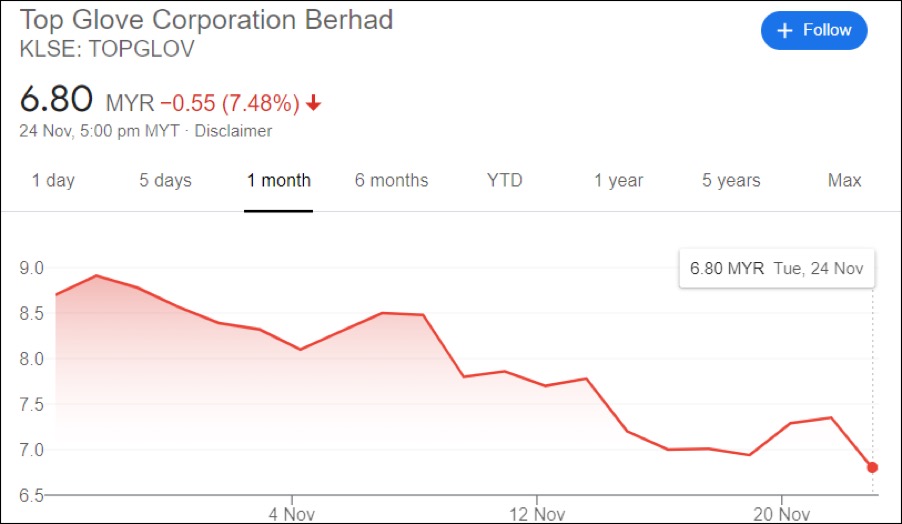 Top Glove price chart shows that it has been dropping in the last 1 month despite its aggressively share buy backs. Today the share price of Top Glove dropped from Rm 7.35 to Rm 6.80, a drop of 55 sen which dragged down all the other glove stocks.
Hartalega dropped 28 sen
Kossan dropped 27 sen
CarePlus dropped 13 sen
Comfort dropped 12 sen
Rubberex dropped 10 sen
Supermax dropped 9 sen
Due to Covid 19 pandemic the demand for medical gloves far exceeds supply and all the glove makers are increasing their selling prices to make more and more profit. Many scientists predicted that the pandemic will take at least another 1 or more years to control despite the discovery of vaccines.
Today all the prices of glove stocks dropped does not mean that all the glove stocks will continue to drop. In fact, this situation has created an opportunity for smart investors to sell some not so good stocks or non performing stocks to buy better stocks to make more money. The best way is to look at their price charts to select the best performer.
Supermax is making more earning per share (EPS) in every quarter since the pandemic began in March, than any of its peers, namely Top Glove, Kossan, Hartalega, Comfort Glove, Care Plus and Rubberex, etc. as you can see from their price charts.
All investors should not miss this opportunity to make more money from the stock market.