Koon Yew Yin 24 Nov 2020
Malaysia reported a record 1,884 new COVID-19 cases on Monday (Nov 23), following a spike in infections linked to workplace clusters in the Klang Valley.
[ Visit
The Coffee Break
-The top newsletter to know more and learn more. Be smarter in 3 minutes ]
This is the highest daily number of new cases since the outbreak of COVID-19 in the country, said Health Director-General Noor Hisham Abdullah.
Malaysia has recorded a total of 56,659 COVID-19 infections to date, of which 13,842 are active cases. Two more fatalities – both in Sabah – were also recorded on Monday, taking the national death toll to 337.
On Nov 23: Top Glove Corp Bhd has confirmed that it will temporarily shut down 28 factories in Klang, Selangor following an insurgence of Covid-19 cases among its workers. Top Glove, the world's largest glove manufacturer, has 41 factories in Malaysia.
Malaysian government has ordered staggered closures after surge in COVID-19 cases at world's biggest glove maker.
Top Glove worker hostels west of Kuala Lumpur have been under a strict lockdown for a week. Now the government has ordered phased factory closures so all staff can be tested for COVID-19
Top Glove, the world's biggest manufacturer of medical gloves, has said it will fully cooperate with the Malaysian government on the staggered closure of its factories to allow all staff to be screened for COVID-19 amid an escalating outbreak of the coronavirus among its workforce.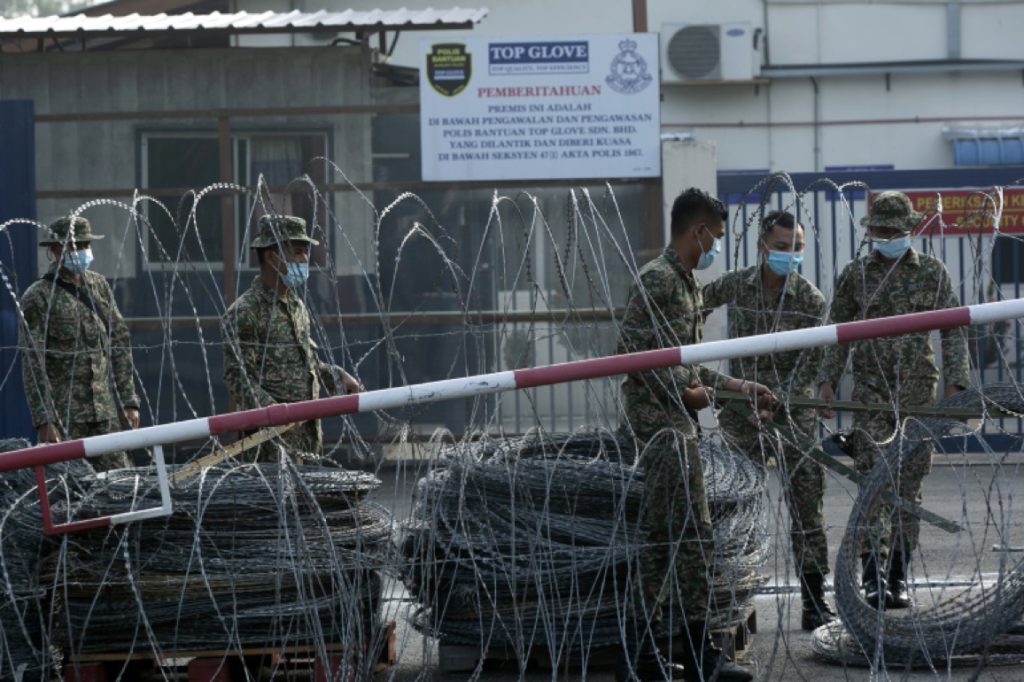 Top Glove has temporarily suspended operations at 16 of its factories in Meru, a town west of Kuala Lumpur, and the 12 remaining facilities are operating at "much reduced capacities", it said in a statement on Monday night after the government ordered the staggered closure of its factories.
With the help of the Ministry of Health, the company has already completed the screening of about 5,700 workers at its hostels, the statement said.
"We are committed to proceed with the COVID-19 screening test for the balance (of) workers and staff of our factories in Meru," the company said without elaborating on the numbers involved or when the process would begin.
"The safety and wellbeing of our employees and local community is our utmost priority towards containing the situation and to flatten the COVID-19 curve."