Koon Yew Yin 1 Jan 2021
KUALA LUMPUR (Dec 31): Although the battle with Covid-19 pandemic is still ongoing, Bursa Malaysia certainly has good reasons to celebrate the year 2020.
[ Visit
The Coffee Break
-The top newsletter to know more and learn more. Be smarter in 3 minutes ]
Firstly, the local market has outperformed its neighbouring bourses with its benchmark index ending the year in the positive zone, except for Vietnam. The FBM KLCI gained 3.5% year-to-date (YTD) to reach 1,644.41 points on Dec 30, while Vietnam's VNINDEX has climbed 14.2% YTD. It is worth noting that the FBM KLCI had declined for two consecutive years since 2017.
In contrast, Singapore's Straits Times Index dropped 11% YTD, followed by the Philippines' PSE Composite Index -8.6%, Thailand's SET Index -8.3%, and Indonesia's Jakarta Composite Index -5.1%.
Share prices went higher in the broader market, as reflected by the bigger gains on Bursa Malaysia Small Cap Index, which went up 10.09%, while FTSE Bursa Malaysia ACE Index, which exceeded the 10,000 mark, has soared 103.5% YTD.
The market capitalisation of all listed entities has ballooned as much as RM104.74 billion against end-2019's, according to Bloomberg data.
Secondly, the stock exchange should also cheer for the return of retail investors who have been absent for over a decade, if not longer. Given the surge in retail interest, the exchange's daily trading volume ballooned to an all-time high of 27.8 billion in August compared with last year's high of 2.51 billion shares.
Bursa's total trading volume swelled to 1.81 trillion as at Dec 30, nearly triple of 2019's annual volume of 613.59 billion. This speaks well for Bursa Malaysia Bhd's earnings.
Rubber glove makers, semiconductor-related counters and vaccine distributors — these are the main theme plays in 2020.
The Edge is taking a closer look at this year's top winners and top losers, which have been grouped according to market capitalisation.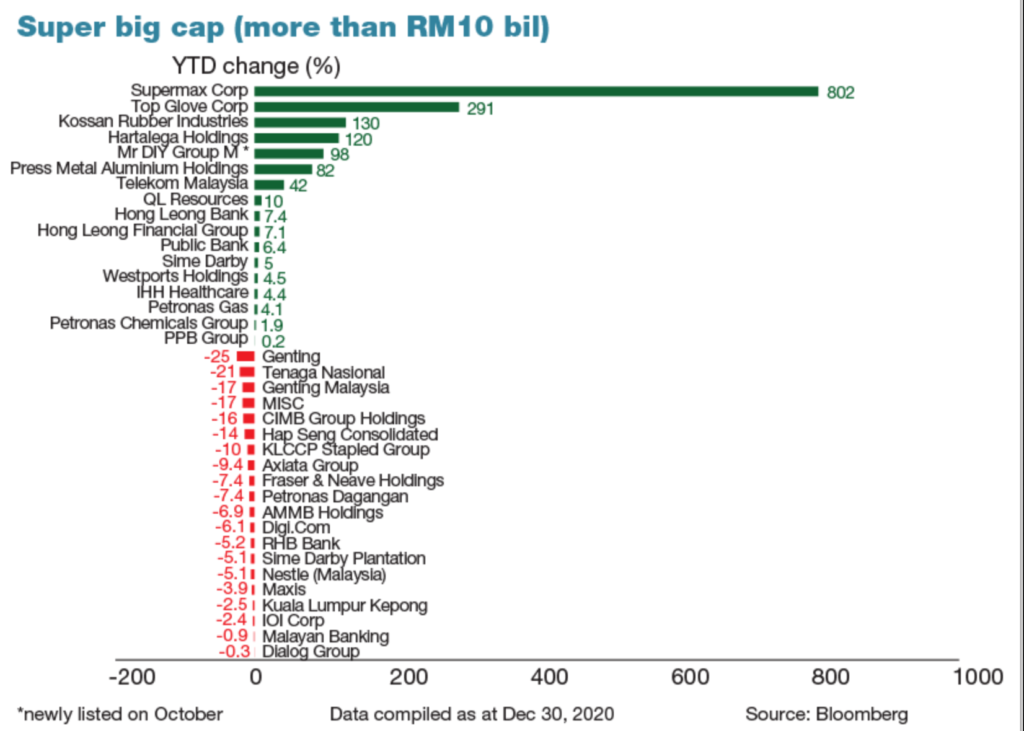 Super big cap (market cap of more than RM10 billion)
There are 37 companies in this category. Supermax Corp Bhd and Kossan Rubber Industries Bhd were not in this category last year. Likewise, so was not the newly listed Mr DIY Group (M) Bhd.
The top four best performers are the big four rubber glove makers, namely Supermax (+802% YTD), Top Glove Corp Bhd (+291% YTD), Kossan (+130% YTD) and Hartalega Holdings Bhd (+120% YTD). They would have recorded higher gains this year if it were not for the news about the roll-out of Covid-19 vaccines most recently. They have collectively gained RM79.42 billion worth of market cap, which is equivalent to 76% of the total market cap increases from all the stocks listed on Bursa Malaysia.
My comment: Due to the Covid 19 pandemic, the demand for medical gloves far exceeds supply. As a result, all the glove maker can easily continue to increase their selling prices to make more and more profit. The number of Covid 19 cases are still increasing more and more every day as shown by the chart below.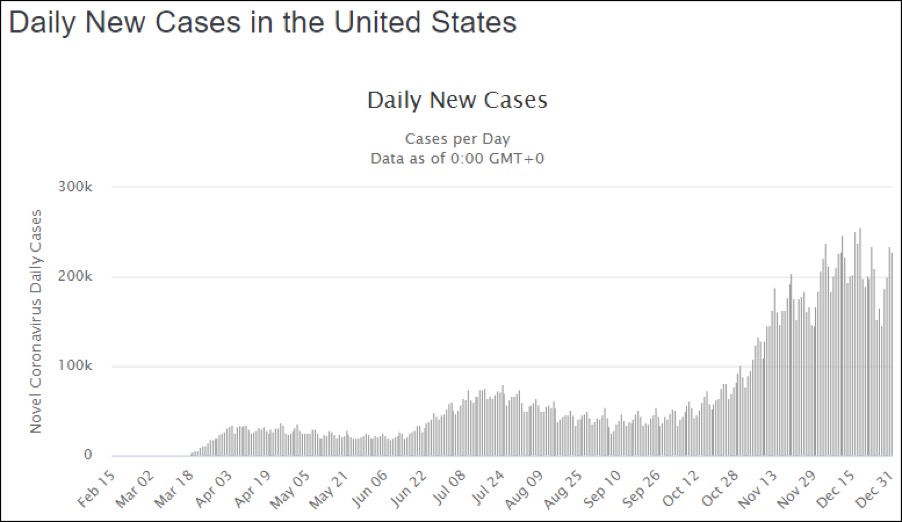 Currently US has a total of 20.45 million cases and 354,215 deaths. These figures are still surging.
Supermax is the top performer in 2020
From this report, you can see that Supermax has gained 802% and Top Glove has gained 291% in 2020. Supermax is the top gainer among all the 1,100 listed companies because it has the best profit growth rate. Its EPS was 30.58 sen for its 1st quarter ending September. Its EPS was 15.29 sen for its previous quarter. It made 100% more profit than its previous quarter. It is most likely its 2nd quarter profit will be another new record high which will be announced in Mid-January.
Even if I assume that Supermax cannot increase its selling price for the 3 quarters, its annual EPS will be 30.58 sen X 4 = Rm 1.22. Based on PE 15 its share price should Rm 18.30.
These photos below are showing that all the medical staff are wearing glove to do the vaccination and testing for coronavirus. In fact, additional glove will be required. Unfortunate, many less informed investors are rushing to sell their holdings as if the vaccine will reduce the demand for gloves.
I am obliged to inform you that 90% of my investment is Supermax and 10% is Top Glove. I am not encouraging you to buy or sell because your trading volume will not affect the share price as the daily traded volume is tens of million shares.