Koon Yew Yin 8 Feb 2021
You can see all the Investment Banks have their target prices as shown on the table below.  
[ Visit
The Coffee Break
-The top newsletter to know more and learn more. Be smarter in 3 minutes ]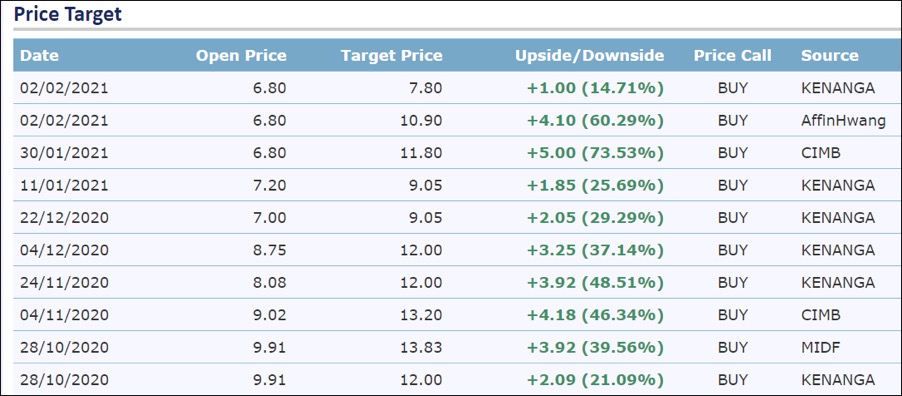 The above chart shows that Supermax price has been dropping in the last 5 months. It started to drop on 6 Aug when the price was Rm 11.89 to close at Rm 6.67, a drop of Rm 5.22 or 44%.
The price dropping defies investment logic.
Before you want to buy a stock, you would examine logically the followings:
1. Whether its EPS has any growth potential.
2. Whether the share will drop further.
3. What is the downside risk.
In the case of Supermax, its EPS will continue to increase in the next few quarters due the increase in demand for gloves during the current Covid 19 pandemic. Many scientists have predicted the Covid 19 pandemic will continue for another 4 or 5 years despite mass vaccination. To stop the spread of the coronavirus at least 70% of the world population must be vaccinated. There are 7.6 billion people in the world. Currently only the rich countries can afford to buy vaccine to vaccinate their citizens. Most of the countries cannot afford to vaccinate their citizens.
The downside risk is minimum because it has dropped 44% in the last 5 months while the company has been reporting increase EPS.
Its 1st quarter ending Sept 30.58 sen. Its 2nd quarter EPS was 41.14, totalling 71.72 sen for half year. Assuming the company cannot increase its selling price for its gloves, the EPS for each of the next 2 quarters will be 41.14 sen and 41.14 sen. Its annual EPS will be Rm 1.54. Base on PE 10, it should be valued at Rm 15.6 per share.
This target price of Rm 15.60 is easily achievable. Investors must not sell their holding but wait patiently for the next few months to see the increased EPS. The downside risk is minimum.