Koon Yew Yin 22 March 2021
OSK Holdings Berhad ("OSK" or "the Company") began its stockbroking business in 1963 and was listed on the Kuala Lumpur Stock Exchange in 1991. OSK grew over the years to become a regional investment bank under OSK Investment Bank Berhad ("OSKIB").
[ Visit
The Coffee Break
-The top newsletter to know more and learn more. Be smarter in 3 minutes ]
In 1997, OSK diversified into properties through its subsidiary company, OSK Property Holdings Berhad ("OSKPH"). When OSKIB became a regulated entity in 2007 by Bank Negara Malaysia, the shares of OSKH were distributed to the shareholders of OSK to comply with regulatory requirements.
In 2012, OSKIB merged with RHB Investment Bank Berhad in a share swap exercise resulting in OSK becoming a major shareholder in RHB Banking Group – the 4th largest bank in Malaysia, an investment holding position that OSK continues to hold 10% of the total issued shares of RHB until today.
Currently the last traded RHB share price is Rm 5.41 per share. Its market capitalisation is Rm 21,694 million. Its total issued shares is 4,010 million.
The last traded OSK share price is 98 sen and its market capitalisation is Rm 2,059 million. Its 10% of RHB is worth Rm 2,169 million which is more than its market capitalisation. Its NTA Rm 2.41 as you can see from its 2019 annual report.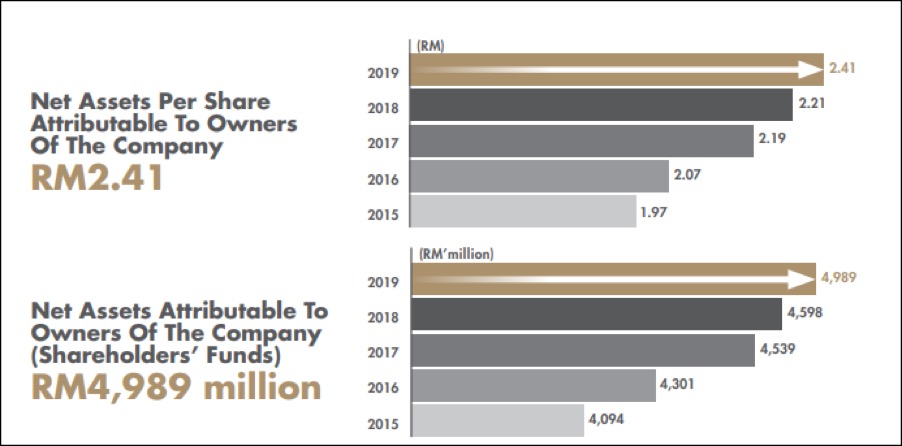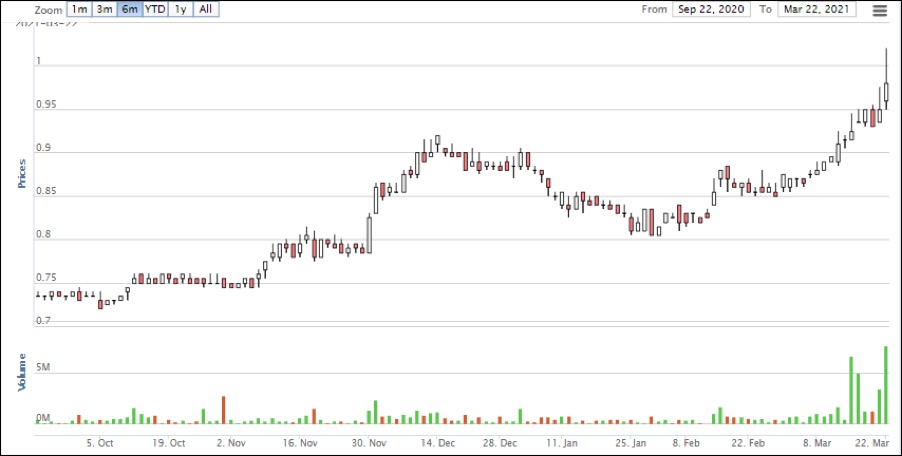 After the merger, OSK Group in 2015 is transformed OSK into an enlarged entity with diversified business interests in five key segments, namely, Property, Construction, Financial Services, Industries and Hospitality.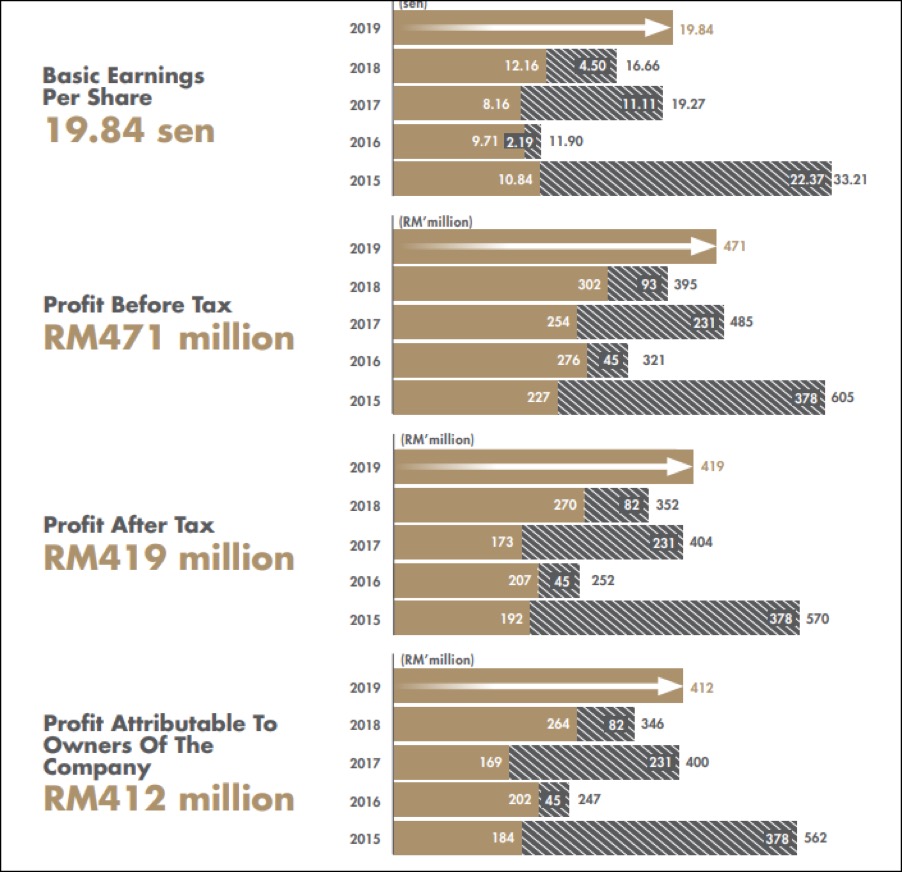 OSK partners EPF in A$2.8b Melbourne project, first phase completed by 2020
OSK Holdings Bhd and Employees Provident Fund (EPF) as its financial partner to develop an upcoming five-acre (2.02ha) mixed-use development in Melbourne, Australia, with an expected gross development value (GDV) of some A$2.8 billion (RM9.39 billion).
The pension fund is taking a 49% equity interest in Yarra Park City Pty Ltd (YPC) for A$154 million, which holds the development rights for the Melbourne Square project located in Southbank, In a joint statement yesterday, EPF chief executive officer (CEO) Datuk Shahril Ridza Ridzuan said Melbourne Square will be the pension fund's second development venture overseas after the Battersea Power Station project in London, the UK. EPF has a 20% stake in the consortium developing the Battersea project, together with property developers Sime Darby Bhd and S P Setia Bhd which have an equal stake of 40%.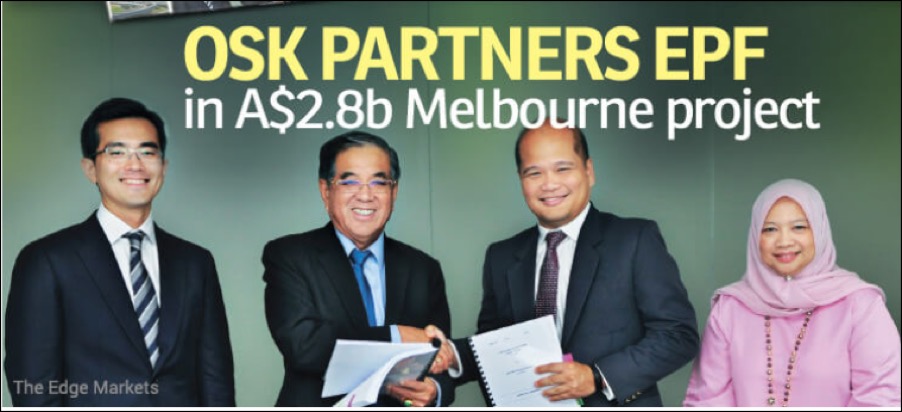 EPF is partnering OSK, which owns the remaining 51% stake in YPC through its subsidiary PJ Development Holdings Bhd. PJ Development holds the stake via its wholly-owned Australian unit PJ (A) Pty Ltd (PJA) and Equity & Property Investment Corp Pty Ltd, a 27.4%-owned associate of PJA.
"The Melbourne property development befits EPF's long-term objectives and will be a good addition to our overseas portfolio. The increasing demand for residential [property] in Melbourne will enable EPF to generate returns for its members," said Shahril.
OSK CEO and group managing director Tan Sri Ong Leong Huat said Melbourne Square marks the group's maiden foray into Melbourne.
"Melbourne Square will be an important destination within the world's most liveable city as it also represents one of the last pieces of sizeable prime land available for an iconic development in Melbourne. We are delighted to partner EPF on this exciting project, and we hope to deliver a project which all Malaysians can be proud of," Ong added.
In a filing with Bursa Malaysia yesterday, OSK said PJ Development had entered into a share sale agreement with EPF to sell its entire stake in Yarra Development Holdings (Australia) Sdn Bhd, which will in turn complete the subscription of new subscription shares representing a 49% stake in YPC.
OSK added that the stake disposal is expected to increase the group's net earnings by A$38.2 million and make a foreign exchange gain on the total investment in YPC of RM49.2 million or 12.86 sen per share for the financial year ending Dec 31, 2017.
"The original cost of investment in YPC during May 2014 to February 2015 by PJ Development was A$94.1 million (RM267 million)," the group said.
Barring any unforeseen circumstances, the stake disposal and YPC subscription are expected to be completed within six months, said OSK.
According to OSK and EPF, the Melbourne Square development will transform a former carpark bounded by the West Gate Freeway and Kavanagh, Balston and Power streets in Southbank into a mixed-use community and retail centre.
"The project aims to give Southbank a 'green heart' with a public park and network of leafy spaces, as well as critical community infrastructure such as a childcare facility and a supermarket along with other retail options.
"Melbourne Square will comprise four towers of residential apartments, a retail mall, an office tower and a hotel/serviced apartment tower. The project will be developed in five stages over eight to 10 years," they added.
Phase 1 of the development, which recently received the planning endorsement by the Victoria state government's Department of Environment, Water and Planning, will feature two residential towers housing over 1,000 apartments, with a GDV of over A$900 million.
"Phase 1 will provide a showcase of green spaces and essential amenities including a beautiful urban park, a childcare centre, a supermarket, restaurants and cafés, and a comprehensive set of residential amenities.
"The scale of the site has enabled YPC to deliver a differentiated set of features that should set Melbourne Square apart from the other residential projects that are on offer in Melbourne city," said OSK and EPF.
YPC has appointed a list of top-tier consultants for the project, including multiple award-winning Cox Architects to design the master plan and phase 1 of the project, Carr Design for interior design services, Sinclair Brook for project management and CBRE as the sales agent for phase 1, which was launched this month.