Koon Yew Yin 7 June 2021
After I read this very well written article, I was tempted to buy Ornapaper Berhad, Master-pack Group Berhad, and Public Packages Holdings Bhd. You must read my reason to buy or not at the end of this article.
[ Visit
The Coffee Break
-The top newsletter to know more and learn more. Be smarter in 3 minutes ]
Paper-based Packaging
Due to the outbreak of Covid-19 pandemic in our country, many industries are greatly affected as many of the businesses are not able to operate normally due to restrictions and strict procedures set by the government. There are also industries that actually excel during the pandemic as their products/services are essentially needed such as Food & Beverage, Pharmaceutical, Healthcare, and Electrical & Electronics.
Paper-based Packaging happened to be one of the sectors doing pretty well amid the pandemic. We have seen some of the share price of Paper-based Packaging companies in Bursa Malaysia went up quite a bit since 2020.
Favourable Market Environment
These reasons presented below will create a favourable market environment for Paper-based Packaging companies moving forward:
1. Rise in E-Commerce
Due to the pandemic, many businesses that are traditionally without strong online presence are forced to shift their business model to online to ensure survival. This is because the Covid-19 pandemic has disrupted consumer's normal behaviour as consumers are gradually switching from offline purchase to online purchase. The closure of physical retail stores due to lock down measures encouraged consumers to purchase online at their convenience. This change in purchase behaviour is poised to stay for a long term, which is witnessed in the exponential growth in E-Commerce market last year during a much-relaxed movement control order.
As corrugated paper packaging comes in As corrugated paper packaging comes in different sizes which can be used for the packaging of all kind of products, the increasing growth of E-Commerce will continue to drive the demand for corrugated paper packaging.
2. Benefit from New Industrial Trend
The demand for Paper-based Packaging is closely linked to the trend of the economy GDP and the level of various industrial activity. Industries including food & beverages, personal health care, pharmaceutical, and electronics have shown to be growing at a faster rate during the pandemic.
Food & Beverages
Food & Beverages is one of the top sectors dominating the share of corrugated paper packaging market. The growing demand for the packaging of food products such as confectionery items, food grains, dairy products, processed food and frozen food has led to the increasing need for corrugated paper packaging as these corrugated boxes are lightweight and durable, which is really suitable for shipping even to long distances.
Healthcare
The corrugated paper boxes also experiencing huge increasing demand from the pharmaceutical industry. Due to the Covid-19 pandemic, people are more health conscious nowadays. Since the fear of getting infected is likely to last for a long time, it is anticipated that consumers will continue to purchase healthcare products online.
Electronics & Electrical
Due to the Covid19 pandemic, many companies have implemented the work from home policy to prevent the Covid19 virus from spreading. As such, the sales of electronic items have been exceptionally well during the pandemic
From the latest earning results of our local Electronic Manufacturing Services (EMS) companies – V.S. Industry Berhad, ATA IMS Berhad, SKP Resources Bhd, and ICT Distributor VSTECS Berhad, we could clearly see that these E&E related players have all performed well from the market's increasing demand for E&E items.
These 3 industries are only the few of the many that use paper-based packaging.
3. Preferred Packaging Choice – ESG concerned
Lately, Environmental, Social, and Governance (ESG) investment has become a primary concern for investors. For years, ESG issue were a secondary concern for investors. Today, the ESG concern has become sort of important after the issue with Top Glove Corp Bhd's unacceptable condition of its staff accommodations.
Packaging using paper has attracted much interest lately as the public is now more aware and more informed of the dangers that affect our environment. Hence, Paper-based packaging is the natural alternate material in place of other forms such as plastic, foams, and metal. Well informed consumers are inclined towards using recyclable packaging material and henceforth is driving the momentum of the entire corrugated paper packaging industry.
4. Low Paper Raw Material Cost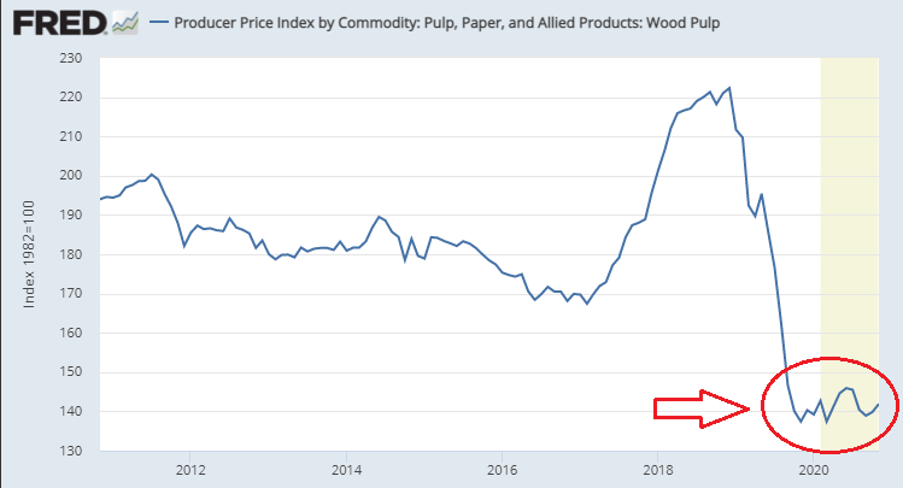 Wood Pulp and recovered paper are the main raw materials used to produce corrugated carton boxes. From the chart above, we could clearly see that since 2019 the prices of Wood Pulp have been declining and maintained at a low level throughout 2020 until today. Large global inventories by the paper milling players have kept the prices much lower than its 2018 peak. Due to the reduced usage of papers and also the pandemic, the price level stayed at that low level ever since.
As a result, corrugator players like Ornapaper Berhad, Master-pack Group Berhad, and Public Packages Holdings Bhd get to enjoy better profit margins from 2nd half of 2019 onwards.
On the other hand, the selling prices of corrugated paperboard have only declined by a small percentage as compared to the decline of Wood Pulp prices.
With the stability of corrugated paperboard selling price coupled with low wood pulp raw material cost, I foresee the corrugator players to perform well in coming quarters.
5. Low Foreign Exchange Rate (US Dollar)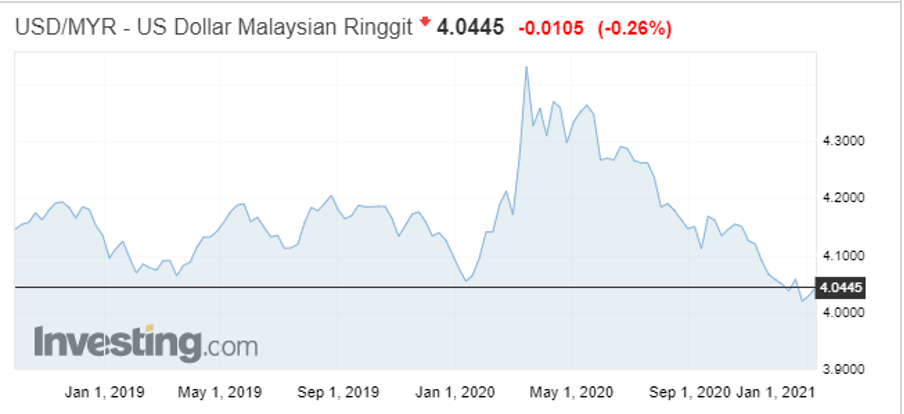 Opinion
The Covid-19 pandemic has caused a great disruption to the business environment. Many industries are impacted severely while certain sectors are proven to be rather resilient. Paper-based packaging business happened to be one of the sectors that excelled throughout the pandemic.
The paper-based packaging industry in Malaysia moves in tandem with economy growth through manufacturing activities. Given its versatility and cost-efficient method to transport, protect and preserve a wide array of items, it could serve a diverse nature and end-user industries. Engineered to be sturdy yet lightweight, and is customizable to meet customer specific needs, packaging business will always be in demand as packaging is required to protect and transport goods from one point to another and for many other purposes such as providing marketing appeal and information on the goods the package covers.
In the long run, I reckon that the constraints resulting from the Covid-19 pandemic will cultivate new purchase behaviour, which will promote a further penetration of the E-Commerce market. Consumers who did not get involved in E-Commerce before will start purchasing items online, while regular online purchasers will increase their online purchase frequency even more. Such changes of behavior is here to stay even after the pandemic is over, and the demand for corrugated paper boxes will be needed more than ever.
Corrugated paper boxes are recyclable and do not pose any threat to the environment. With more customer awareness in regard to environmental concerns such as global warming, paper-based packaging will be the preferred choice over other types of packaging. Consumer's awareness of hygiene and safety too will further improve the demand for paper-based packaging. After the pandemic is over, I foresee more paper packaging is likely to replace plastic packaging, especially in the food sectors.
The prices of wood pulp have been staying at a low level since 2020. Due to pandemic and also reduced global usage of paper, the prices of wood pulp are estimated to stay at this level in near future. This bodes well for corrugators like Orna, PPHB and Master. Wood pulp and recycled paper being the major raw material, have tremendous impact on their production. They represent about 60% (on average) of their total production cost, which is significant.
Among Orna, PPHB and Master, my favourite AT THIS POINT OF TIME will be PPHB. This is because despite the industry is mature with intense competition, PPHB managed to deliver a very satisfying gross profit margin and net profit margin of 31% and 12% respectively (based on 2019 result), which are also highest among the industry. There are also many other reasons of choosing PPHB which I will not discuss in this article.
In conclusion, I believe paper-based packaging companies will do well in the coming quarters due to the favourable market environments which I have discussed above.
My comment
Orna price Rm 1.44, latest EPS 3.45
PPHB price 82.5 sen, latest EPS 2.13 sen
Master price Rm 1.76, latest EPS 5.97 sen
Tomei price Rm 1.33, latest EPS 9.93 sen.
I am obliged to tell you that Tomei is one of my major investments.