Koon Yew Yin 6 June 2021
Currently Malaysia has a total 610,574 Covid 19 cases and 3,291 deaths. These 2 figures are still surging. Malaysia holds the world championship of having the greatest number of Covid 19 cases per capita. We don't want this championship trophy.
[ Visit
The Coffee Break
-The top newsletter to know more and learn more. Be smarter in 3 minutes ]
How did China stop the Covid pandemic?
The Covid 19 pandemic first started in Wuhan in January 2020. China immediately lockdowned the whole region and started contact tracing all the people who were in contact with the Covid 19 patients 2 weeks before the incident. China took bold steps to stop the spread of the virus and within a few months China was free from the pandemic.
Covid 19 in Malaysia
The chart below shows that in September 2020 Malaysia was free from Covid 19 virus. As soon as we had discovered Covid 19 cases, our government should have followed the Chinese well proven method of stopping the spread of the virus. Our government should have taken bold steps to combat Covid 19.  Since we failed to stop the spread of the virus, our PM Tan Sri Muhyiddin should have rung the Chinese Ambassador in KL or rung President Xi Jinping for the supply of Sinovac vaccines instead of buying the vaccines from Pharmaniaga who is the sole agent for Sinovac vaccines in Malaysia.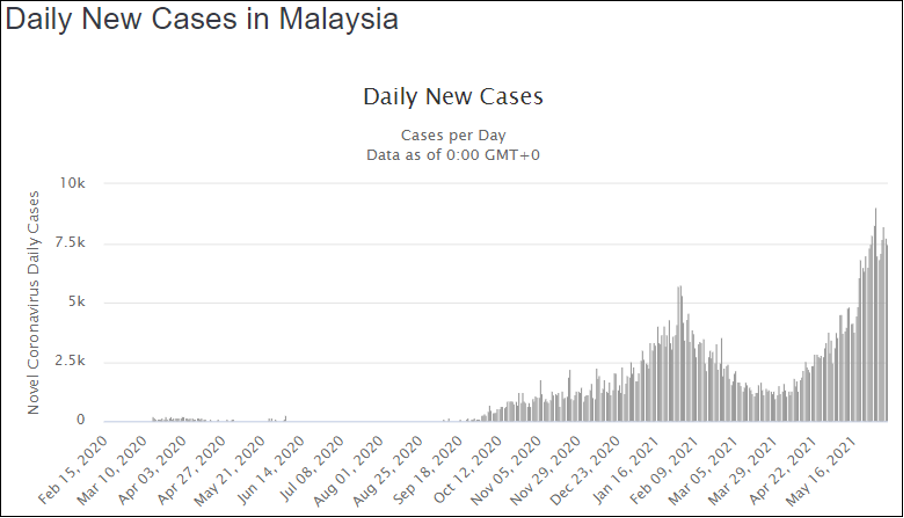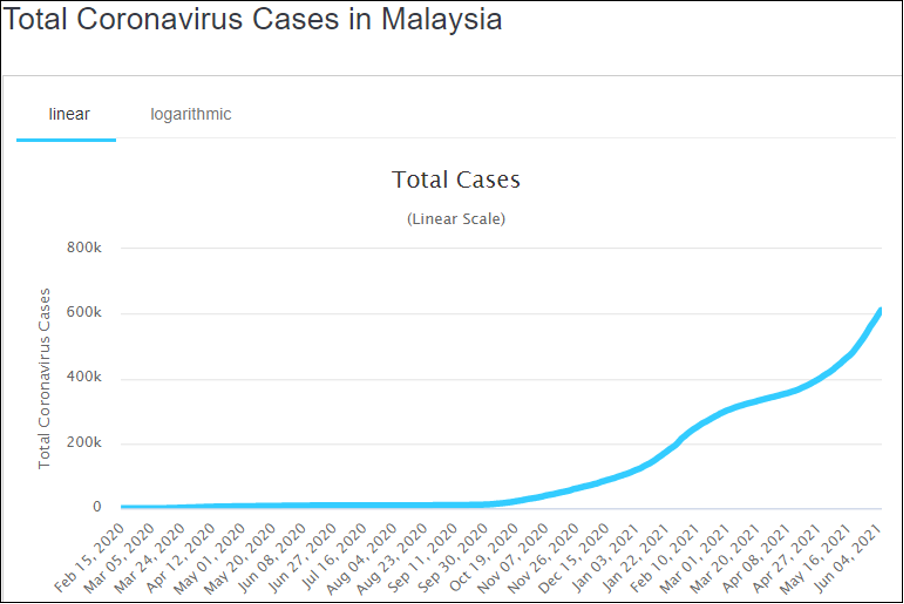 What PM Muhyiddin did?
Parliament was suspended in January in the name of fighting the pandemic, allowing him to stay in power without a floor vote to test claims from legislators that he no longer commanded a majority. Back then, daily new Covid 19 cases could be counted with your fingers.
A crisis of political legitimacy is hanging over Malaysia's government just when it needs to make tough decisions to tackle a relentless surge in Covid-19 infections. It's hard to see the ongoing state of emergency ending in August as promised. The steady erosion of his government's credibility was reflected in new measures announced recently.
Malaysia to enter 'total lockdown' from Jun 1 to Jun 14 as daily number of COVID-19 cases hits new record.
Malaysia will close all economic and social sectors by implementing a "total lockdown" throughout the country. The first phase of the lockdown will last from Jun 1 to Jun 14. This move was announced in a media statement posted on Prime Minister Muhyiddin Yassin's Facebook page on Friday (May 28) night. Only essential economic and service sectors listed by the National Security Council will be allowed to operate during Phase 1 of the lockdown, said the statement issued by Prime Minister's Office (PMO).
"This decision was made after taking into account the current situation of COVID-19 transmission in Malaysia with daily case numbers exceeding 8,000 and active cases exceeding 70,000," the statement read.
Currently Malaysia has a total 610,574 Covid 19 cases and 3,291 deaths. These 2 figures are still surging.
The recent steps look half-hearted. Despite skyrocketing infections, Muhyiddin was subjected to vigorous, even open, lobbying to avoid a full lockdown. His decision indicates he never had the strength to even get close. Muhyiddin sounds like a man pulled in different directions. "Life is important; I also don't want the economy to collapse," he told the state-owned broadcaster RTM on Sunday. "If the economy collapses, I may have to spend half a trillion (ringgit; $121 million) now. … We have to balance. The government's decision is based on the situation."
His own situation was precarious going into the state of emergency. Muhyiddin came to power in March 2020 after a group of lawmakers left a coalition government led by Mahathir Mohamad. Subsequent procedural votes showed the prime minister with a majority of only a couple of MPs — at best. Last September, opposition leader Anwar Ibrahim claimed he had the support of most parliamentarians, but was never given the chance to prove it. Meanwhile, the United Malays National Organization, which led every government from independence in 1957 until 2018, isn't happy with its junior role in Muhyiddin's bloc and will campaign against him when polls are called.
The longer this pandemic and the government persists, the harder it is to take bold steps to combat Covid and eventually, end economic haemorrhaging. Gross domestic product fell for a fourth consecutive quarter in the first three months of the year.
If the state of emergency is prolonged, which looks like a fair bet, then Muhyiddin needs to find a way to broaden his appeal. A government of national unity might be in order. Invite Anwar's People's Justice Party and perhaps its partner, the Democratic Action Party, into a much broader coalition. This would acknowledge political weakness, but once inside the tent, it would be hard for opposition parties to keep sniping. Such a move carries its own risks. The Pan-Malaysian Islamic Party, or PAS, which is part of Muhyiddin's existing bloc, regards the DAP as too multiracial and urban and views Anwar, though he comes from the ethnic Muslim Malay majority, with almost as much scepticism. Parts of UMNO also resist Anwar and the DAP.
My proposal
To stop the Covid 19 pandemic, we must have a strong Prime Minister with the majority support of parliamentarians to be able to take bold steps to combat the Covid 19 pandemic. Parliament must re-convey as soon as practical
to find out if back door PM Muhyiddin has the support of most parliamentarians. If he failed, Dato Seri Anwar Ibrahim might be the next PM since he claimed he had the support of most Parliamentarians. Only a vote of confidence can stop the Covid 19 pandemic.