Koon Yew Yin 27 June 2021
Currently we have a total of 728,462 Covid 19 cases and 4,884 deaths. These 2 figures are still surging as shown on the 2 charts below. Recently Malaysia held the world record of having the most Covid 19 cases per capita. 
[ Visit
The Coffee Break
-The top newsletter to know more and learn more. Be smarter in 3 minutes ]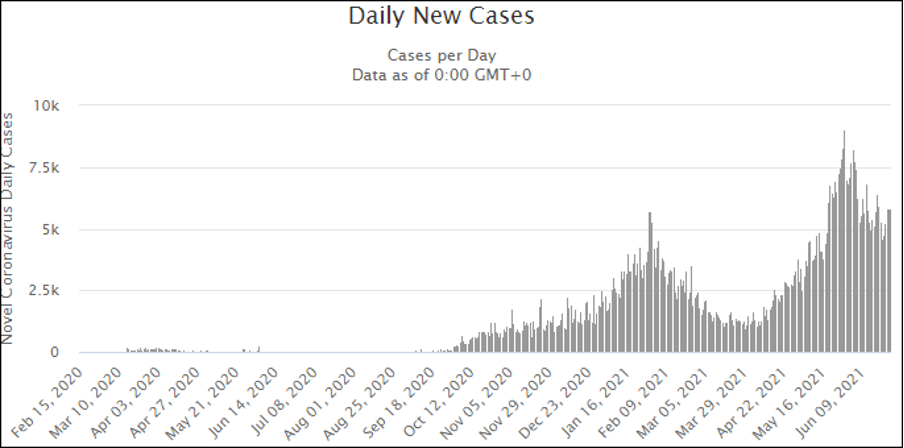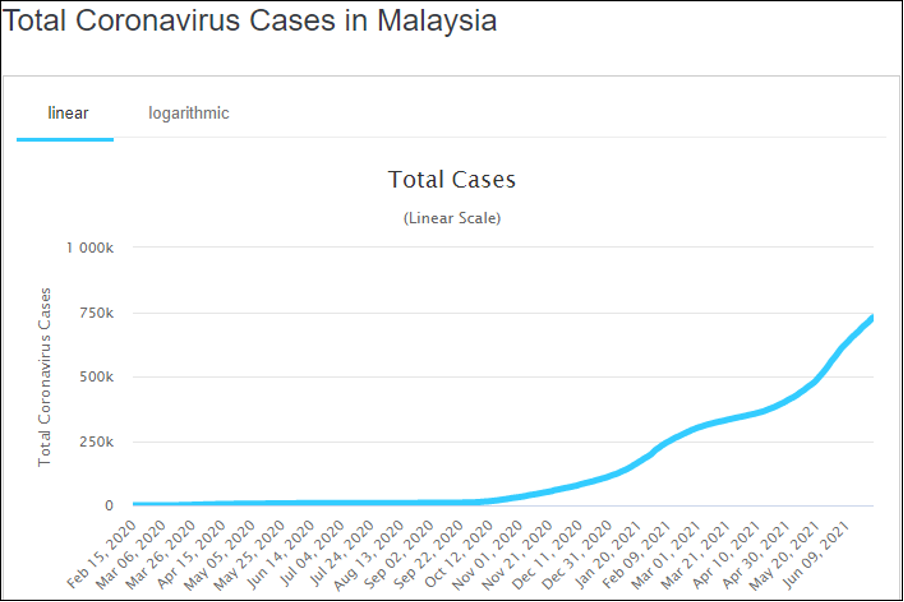 As I said many a time, managing the country is like managing hundreds of business operations in every town and village. In any business operation management efficiency is most important. Good managers produce good result and bad managers produce bad result. 
In the case of Malaysia, the number of Covid 19 cases and deaths is a true measure of our government's efficiency.
Lockdown to continue until cases drop below 4,000 say Muhyiddin
Bernama quoted Muhyiddin as saying that the lockdown will not end tomorrow and that the first phase of the National Recovery Plan would remain.
The lockdown was supposed to end tomorrow (June 28), after being extended two weeks ago. The lockdown began on June 1.
With the lockdown extended indefinitely, Muhyiddin said Putrajaya will be announcing more assistance measures, either tomorrow or on Tuesday. These aid measures will be geared toward all groups of society, he added.
Muhyiddin previously announced the RM40 billion Pemerkasa Plus aid package, involving RM5 billion in direct fiscal injection. But many had criticised the package for being insufficient to help people and businesses during the national lockdown.
Agong will be shocked when he sees the following damage.
Kuala Lumpur, Johor and Penang 126 hotels closed
Langkawi, Malacca City 115 hotels closed
KL Parkroyal Hotel will be closed for renovation for 15 months
KL Plenitude closes 3 hotels
KL Syeun Hotel Closed
Kinta River Front Hotel closed
Tower Regency Hotel closure
Hilton Hotel cuts 2,100 employees
Four Points Hotel closure
Expedia layoffs 3,000 jobs
Tioman Resort Closed
Cold storage Petaling historic supermarket closed
100% of tourist agencies are temporarily or permanently closed, causing 370,000 people in the country to shut down
100% of theatres are temporarily or permanently closed, causing 43,000 people in the country to close
70%美发业#美发业 There is a wave of closure, affecting the livelihoods of 100,000 people
Colleges, training centres, professional schools are suspended, and more than 10,000 school buses are parked
Casinos, entertainment, KTV, bars, SPA, CLUB, GYM, temporarily or permanently closed,
Caused 1 million people in the country to suspend business
National chain milk tea shops also closed down one after another, laying off 25,000 employees
860,000 domestic college students, graduation equals career, employment opportunities are almost zero
The list continues to increase. Including unstated construction, development, contractors, supermarkets, and temporary sales.
81% in Malaysia #law firms will go bankrupt within one year, and they will not be able to escape downsizing. The disadvantages of combined operations or even closure
The lawyers of the Malaysian Bar Association have more than 20,000 members. Due to the COVID-19 pandemic, they are the same as most economic sectors that cannot be "stopped from the epidemic". In addition, low industrial transactions have impacted business decline and faced "downsizing" or bankruptcy doom. … to strike a balance between companies and employees, we urge the government to strongly support professional categories, including law firms, because they constitute the lifeblood of the national economy.
Data from Sin Chew Daily, China News, and Oriental Daily.
How Malaysia could have avoided all these problems?
The number of Covid 19 cases chart shows that Malaysia did not have Covid 19 cases in September last year and the number of cases gradually started to increase. By then China has already vaccinated millions of people in China with its own vaccines called Sinovac.
Why should our government buy vaccines from Pharmaniaga?
It is quite customary or usual for a head of a nation to telephone call the head of another nation, especially in a case of urgency. Our back door Prime Minister Muhyiddin should have called Chinese President Xi Jinping for the supply of Sinovac vaccine instead of the government buying vaccines from Pharmaniaga and other commercial companies. Muhyiddin could easily called Xi Jinping because of emergency to save human lives.
Muhyiddin is afraid to call Xi Jinping for help because he is not legitimately elected. He came in by the back door.
Recently Muhyiddin met the Agong and also Anwar met the Agong to find the best way to overcome the Covid 19 pandemic.
Why must Agong fix a date for Parliament to reconvene?
Our Agong suggested politely to reconvene Parliament as soon as possible. Muhyiddin ignores Agong's advice. He is dragging his feet to prolong his position as PM. In this case of emergency, Agong must fix a date for Parliament to reconvene. It is most likely Muhyiddin will be voted out and Anwar Ibrahim will be the next PM. Malaysia urgently needs a strong PM to be able to make bold decision to overcome this Covid 19 pandemic which is killing so many people and our economy.