Koon Yew Yin 27 June 2021
Currently China is the 2nd richest nation and very soon China will be the richest nation in the world. China has been using coal to produce steel and it has been the largest steel producer and exporter in the world. China is now taking its social responsibility seriously to improve its air quality and its environment. China has stopped steel export. As a result, steel price has risen about 50% in the last 12 months as shown on the chart below.
[ Visit
The Coffee Break
-The top newsletter to know more and learn more. Be smarter in 3 minutes ]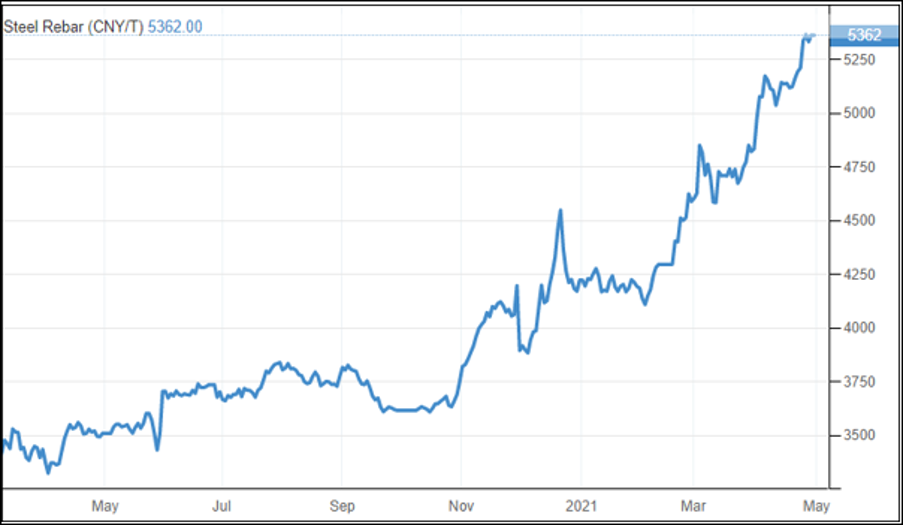 All the steel companies have reported much better profit in their latest quarter. Since steel price is rising, all the steel companies will continue to report increasing profit in the next few quarters.
A few days ago, Astino reported its EPS jumped from 6.43 sen to 8.46 sen for quarter ending April 2021. As a result, its share price also shot up to close at Rm 1.40 per share.
Based on Astino's profit growth, all the other steel companies will surely report increased profit for their next quarter ending June 2021.
The table below is a comparison of all the steel stock EPS. Leon Fuat is the best. Even if I assume that Leon Fuat's EPS for the next 3 quarter is the same as 11.42, its annual EPS will be 4 X 11.42 = 45.68 sen. Last traded price Rm 1.02 divided by 45.68 = 2.2 PE ratio.
Best buying opportunity
Covid 19 pandemic is affecting almost all the listed companies. We also have so much of political uncertainty. Moreover, many investors have lost their employment and money in their businesses. As a result, almost all the listed shares are being depressed and many investors are forced to sell their holdings.
Clever investors should take advantage of this fire sale opportunity to buy steel stocks. My largest holding is Leon Fuat.