Koon Yew Yin 17 Nov 2020
Recently my friend David Loh took me to visit AT Glove factory in Chemor, Perak which is less than 10 km from my house.  He circulated the photo showing 2 of us in front of the company sign board. As a result, many investors many investors started to buy ATS shares aggressively. I have posted 2 buy recommendation articles and the big players pushed up the share price from 10 sen to peak at 30 sen within 2 weeks with daily traded volume exceeding 2 billion shares as shown on the price chart below. All my readers would have made some profit so quickly. 
[ Visit
The Coffee Break
-The top newsletter to know more and learn more. Be smarter in 3 minutes ]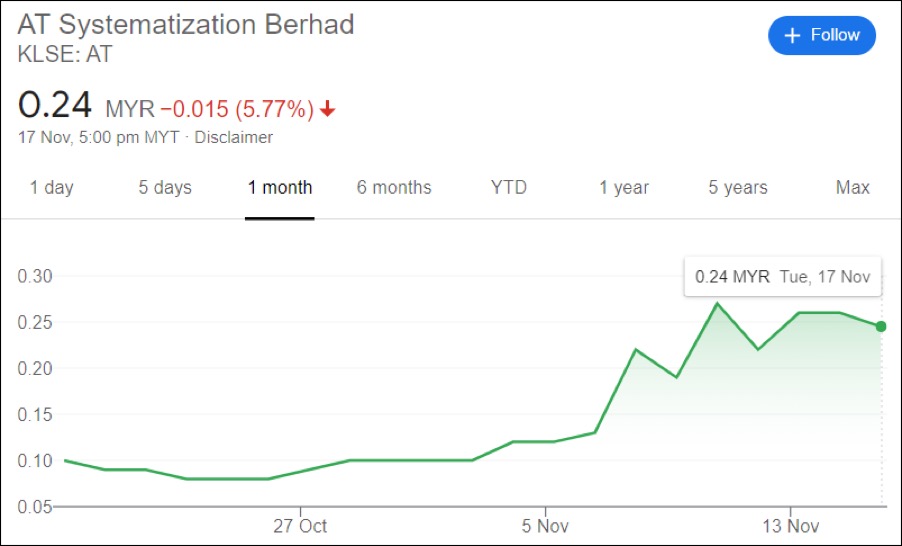 Based on the trading volume and the falling of the share price, it looks like the big players are not supporting the share price any more. Today it dropped 1.5 sen to close at 24.5 sen with a reduced volume of 1.22 billion shares traded. This is a sign of weakness in the share price; so be careful.
This morning before the stock market opens, I WhatsApp to all the people on my contact list that I will be selling my AT shares to buy Supermax. My purpose of writing this article is to forewarn all my readers to be careful because the company has not produced any glove yet and it has been losing money in the last 7 quarters.