Koon Yew Yin 26 Aug 2021
Hiap Teck mines iron ore to produce steel for sale. It also makes steel angle sections, pipes and steel products for sale. It also exports iron ore. Hiap Teck is different from many other steel companies.
[ Visit
The Coffee Break
-The top newsletter to know more and learn more. Be smarter in 3 minutes ]
Choo Bee, Leon Fuat, Prestar, Astino, Leader Steel, Tashin, Mycron, etc buy steel sheets, steel pipes etc from Hiap Teck to make steel products for sale.
China has been the biggest steel producer and exporter in the world. Since China wants to improve its air quality and environment, it has stopped exporting steel. It only produces enough of steel for its own use.  As a result, the price of steel has shot up more than 300% in the last 1 year as shown on the chart below.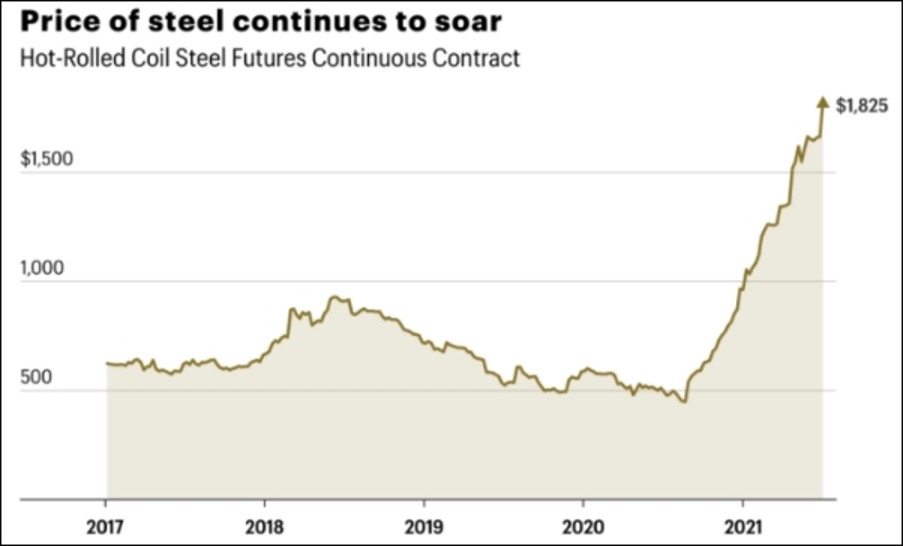 In view of rising steel price, Hiap Teck should continue to report increasing profit in the next few quarters.
Hiap Teck reported EPS 4.79 sen for its quarter ending April and its EPS 2.21 for its previous quarter.
Its profit jumped up more than 100% increase. It should report fantastic jump in profit in its next quarter ending July, which should be announced before the end of September.
Even if I assumed the profit remained the same as 4.79 sen, its annual EPS will be 4 X 4.78 sen = 19.2 sen. Currently Hiap Teck is selling 55 sen. It is selling at PE 3.
Based on the above safe assumption, my target price of Rm 1.00 is easily achievable.